Eyelash business is one of the most preferred businesses in the world. Fake lashes have been becoming a must-have for eye makeup. Hence, their demand is also increasing. People who deal in fake lashes are earning a good deal.
If you are a lash retailer or want to become one, then you must know how to find a lash factory. This is still important to know the ways to find a lash manufacturer even if you already have a lash factory in your knowledge. That way you can have multiple options as lash vendors in your penal.
In this insightful article, you will learn all the tips and tricks that you can apply to find a good and real lash factory.
Let's start.
A Brief about Lash Supply Chain
If you want to start a lash business, then you must be curious to know where those lashes are being manufactured. Lashes are made in a manufacturing facility. That manufacturing site is most probably a lash factory.
The lash factory then spreads the lashes all over its country so that the lashes can be sold at multiple locations.
Most lash factories sell their lashes to the wholesalers so that they can further sell these lashes to the retailers.
So, if you reverse the supply chain process right from a lash retailer, you end up reaching a lash factory.
Is It Important to Find a Lash Factory?
Yes. Finding the real source of any product is essential for any business. No matter how big or small your lash business is, it is always a good idea to have a lash factory on board.
It is important to find a lash factory for many reasons. Some of the top reasons why you should find a lash factory are mentioned below.
Increasing Profit Margins
It is probably the biggest advantage of finding a lash factory. Why contact a third party, wholesaler, or a middleman, when you can do business directly with the lash factory?
The wholesalers buy lashes in higher quantities at special pricing. They sell them one by one at a higher price per product to increase their overall profit margins.
If you find and contact the lash factory, it would always give you the benefit of having special pricing from that factory.
Lash Customization Options
If you find a lash factory, you can discuss getting custom lashes made for your business. Can a wholesaler or middleman offer you to have customized lashes? It would be very difficult for him to accommodate this request as they will not have the resources to do so.
So, only the lash factory can provide you with customized lashes.
Combined Bulk Production
One great advantage you can have with a lash factory is to avail a special discount on a certain type of eyelashes. If a lash factory is manufacturing lashes for a buyer, it has to manufacture a certain amount to meet the economies of scale in order to be profitable.
If you also require those types of eyelashes, then it will be more convenient for the lash factory to offer you special discounted prices for those eyelashes. That is because that factory is already manufacturing those eyelashes and manufacturing more prices will not incur much extra cost in terms of machines and production setup.
This may not be the case every time but still, you would have a high chance of getting special prices if you are successful in finding a lash factory.
Price Check with Lash Wholesalers
Even if you don't want to work directly with a factory, you must still know how to find it. That is because you would be in a better position to negotiate lash prices with your supplier or a wholesaler.
You would come to know if your supplier is charging you higher than usual rates that a lash factory offers to a wholesaler.
Pro Tip: Just to cross-check the profit margins of your lash wholesale supplier, you can find a lash factory and contact them while posing to be a lash wholesaler. Let the lash factory quote you its best offer for certain MOQs of lashes.
You can have a better idea of how much profit margin your supplier is making by selling lashes to the retailers.
How to Navigate Your Search for a Lash Factory?
These are the guidelines that you need to follow while you search for a lash factory. If you keep the following points in mind during your search, you can be sure that you are heading in the right direction.
Look for the factories that deal in the most demanded types of lashes so that you may meet your sales objectives.
Look for the legal status of the factories you wish to work with. Also, check the reviews of the people who are already working with them or who previously worked with them.
Don't forget to check the previous record of the factory. It will help you predict how it is going to be as your source.
Check if the factory has a quality assurance policy and if they give replacements for any type of defective merchandise. It will help you in maintaining your further professional ties with the factories.
See which factory is offering the most reasonable rates, compare the prices of similar products of different factories. It will give you the most precise idea.
Spending some money on getting samples and checking their quality is a very good idea. Sometimes, it seems that a professional deal with a factory will go fine. But when you get the product, it does not seem to be just as described. So, it's better to get samples of different factories and choose the best product.
Getting Prior Knowledge of Lashes
It is very important to get prior knowledge regarding the lash business. It will help you keep your search and selling process smooth. You need to know the places with the most numbers of lash factories.
China has been the leading manufacturer of most products including lashes. Other countries that deal in lash business on a wider scale include the USA, UK, and Korea, etc.
You need to know the general types of eyelashes so that you may be able to decide which type you should deal in.
General know-how of the manufacturing procedure of fake lashes is also of considerable importance. It gives you an idea of the cost and hence, facilitates you in making smart choices.
When you are done with addressing various confusions associated with finding a lash factory, you can move on towards the main topic that is "how to find a lash factory?".
How to Find a Lash Factory?
We have already established the importance of finding a lash factory along with the tips to refine your search. So, how to find a lash factory?
The answer may seem simple to some people but just like most situations, there are many sides to this riddle too.
While the basic and traditional search techniques are also important, let us try to navigate our search so that we leave no page unturned.
Following are the ways to find a lash factory.
There are multiple methods that you may use to search for a lash factory fitting your requirements. The most important methods to find a lash factory have been discussed below.
1. Search Lash Factory On Google Search.
Google is a famous search engine, whenever you think of searching or finding anything, the first idea that comes to your mind is that of googling it.
Google the relevant keywords revolving around "lash factory" or a "lash manufacturer".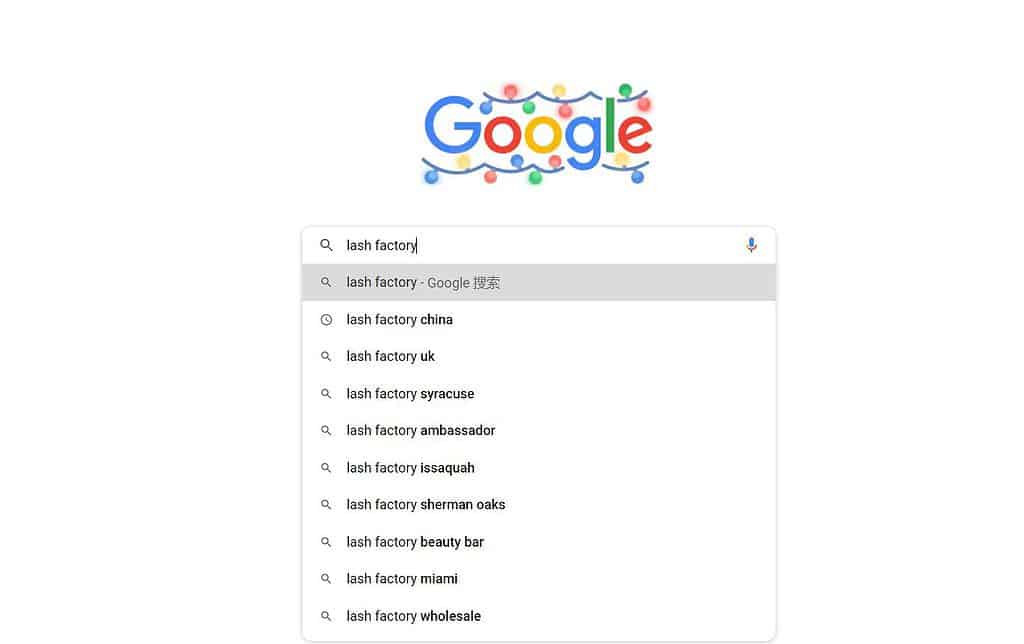 Make sure to follow the suggestions that Google provides. Look for the Google autofill options and see if they match your search requirement.
Most of the time the first page shows the famous factories that may or may not meet your criteria, you can scroll down and look for the other options that it offers.
Start making a list of lash factories that you find from Google search results. Keep exploring Google search results until it starts showing irrelevant information.
Pro Tip: If you don't want to spend much time on Google, at least try to explore the first three Google search result pages.
2. Search Lash Factory On Google Image Search.
Sometimes, a whole page full of words cannot answer your question or may not be able to cater to your needs. Instead, a picture can do the task.
You may search for the images of your desired products, the links under the pictures may direct you towards the manufacturers of those products.
You may also use other search engines like Bing, AOL, and Yahoo to search for a lash factory. While searching on these engines, make sure to narrow down your search so that you may get the most relevant results.
Narrowing down the online searches is quite easy. You can just add a few more words to what you type in the search bar. For example, instead of typing "factories manufacturing eyelashes" you might type "factories manufacturing mink eyelashes".
3. Search Lash Factory On YouTube.
YouTube is also a very powerful search engine. What you cannot find in Google search, is sometimes available on YouTube with visuals. YouTube won't only help you find a good lash company but will also provide you with some other useful information.
That information can help you determine whether you are in the right direction in your search or not. It can also help you understand this whole lash business in a better way.
4. Search Lash Factory On Instagram.
Nowadays, Instagram has become more of a business-centric place rather than seeing the photos and videos of your loved ones. It is one of the most rapidly expanding social media platforms and hence, you may find your desired manufacturers via this medium too.
Just utilize its search feature and you will have a lot of results related to lash factories as shown in the screenshot below.
5. Search Lash Factory On Facebook.
Facebook might seem to be an entertainment-focused platform but it can be productive in many ways. How about coming across an advertisement of your most sought-after manufacturer while scrolling by the way?
You may also type " eyelash factories" or similar words in the search bar to make some productive use of Facebook.
When you search for the lash factory, don't forget to explore the results in the following segments of Facebook.
Posts
Photos
Videos
Marketplace
Pages
Places
Groups
You will see results in the "all" category and may also see some of the sponsored ads as shown in the screenshot below.
Pro Tip: Just try to search for the lash manufacturers or lash factories on Facebook. Facebook's algorithm works in a targeted way. It will include your profile in the list of people who are interested in eyelashes or in a lash factory.
You will be surprised with Facebook suggestions and advertisements after throwing this bait to Facebook. You will start seeing posts, page recommendations, and ads, etc. All of those would be related to lashes or to the lash factories specifically.
6. Search Lash Factory On LinkedIn.
People use this site to connect with their colleagues, to search for jobs or employees, or to excel professionally. You may also use it for meeting your professional needs and for getting in touch with the manufacturers of the products that you want to sell.
Most factories and manufacturers consider it important to be present on LinkedIn. That's where you play smartly to find lash factories.
You can try searching for lash factories while making use of the filters on LinkedIn. Just select "companies" in the search suggestion and you will be given the list of companies or factories only.
You can further refine your search with more filters like the location and the type of industry, etc.
Here again, once the algorithm of LinkedIn knows what you are interested in, you will get a lot of suggestions automatically.
Always have this fact in mind. If a business wants to connect with a factory, a factory also wants to connect with businesses. That's the name of the game and that's how it works.
So, it is not possible that a factory doesn't have a presence on the Internet. It is only a matter of searching the factories on the right platforms. LinkedIn is also among those relevant platforms to search for a factory.
7. Search Lash Factory On Online Manufacturer Directories.
Another great method to search for the factories is by exploring online manufacturers' directories. Most factories have enlisted their businesses on these directories.
Try to explore as many directories as possible. Start making a list of factories that make eyelashes. Contact them one by one and you can take on the game from there.
Some of the popular American manufacturer directories include Thomas Net, mfg, and Maker's Row, etc.
You can also explore yellow pages to find a lash factory as well but that will take much of your time and effort. Just try to find the directory for the manufacturer in the region you are interested in.
For example, you can search for the China Manufacturer Directory if you want to find a Chinese lash manufacturer.
Pro Tip: You cannot trust the whole data that online directories provide you. That's because it has a mix of old and new manufacturers. So, it is quite possible that a factory is enlisted on a directory but it is closed in reality.
So, try to find the factories that have working websites or contact information.
8. Search Lash Factory On Lash Associations.
Yes. lash business is such a widely recognized business that it has international associations. One such lash association is NALA (National Association of Lash Artists).
You can get hold of lash manufacturers on such associations and can have their contact information. Their websites are also mentioned on these associations.
9. Search Lash Factory On Online B2B Platforms.
There are different marketplace forums that have the details of different manufacturers. They also provide important relevant information about those manufacturers to make your search easier.
The leading online B2B platform to find any product is probably Alibaba. Alibaba has completely changed the business norms for the whole world for good.
You can find almost every kind of product of Alibaba including lashes. As it is a B2B platform and it has MOQs, it is more likely that you find most of the Chinese factories on this platform.
Pro Tip: Don't get excited with the low MOQs on Alibaba while searching for a factory. If you find suppliers on Alibaba who are offering 1 pair of lashes as an MOQ, it is not likely a lash factory. It may be a wholesaler or a retailer.
You should consider the suppliers on Alibaba who offer the cheapest rates with decent MOQs.
10. Search Lash Factory On Exhibitions and Tradeshows.
Exhibitions give a very fine opportunity to get in touch with various manufacturers. It becomes easy for you to choose because you can have one-to-one contact with the manufacturers via these exhibitions.
You can get your concerns addressed too. Moreover, it is a more trustworthy forum. Anything physical is definitely more trustworthy than a virtual one.
Generally, such exhibitions have their advertisements in the newspapers or online. You need to stay informed. The famous Chinese exhibitions are Canton Fair and Yiwu Trade Fair.
11. Search Lash Factory On Business Expo Catalog.
You are busy launching your business and finalizing other matters and can't visit any exhibition physically? No issues!
You may get a hold of the catalog of the exhibition. The details and pictures of lashes manufactured by those factories can be found in those catalogs.
Moreover, you may order these catalogs beforehand too. If you think that any of the manufacturers is closest to your requirements, you may manage time to visit the exhibition.
A great example of this is China Beauty Expo. You can visit this expo physically and can also contact the suppliers of lashes who are participating in this beauty expo. 
12. Search Lash Factory On Product Sourcing Agent.
You may hire an agent to help you find a factory according to your needs. Agents usually know the market and can be of great help.
They can save your time and other resources that you have to use in searching for your target. You have to pay these agents but at the end of the day, their services are worth it.
13. Search Lash Factory On Referrals from Local Lash Businesses.
Discussions with the people having experience of lash business are surely going to give you many new ideas. They can tell you about the credible lash factories.
You can cross-check those suggestions later on but at least, you may find a base to move things forward.
Just go to an eyelash seller in your area and try to inquire where he buys eyelashes from. It won't be easy to grab that information but once you do, visit his source in person and backtrack step by step.
You will eventually reach the lash factory.
Local Lash Factory vs Foreign Lash Factory
This is the question that would surely pop up in your mind while you are searching for the lash factory. Should you choose the local lash factory to source lashes for your business?
Or should you choose the foreign lash factory? That is a genuine ask.
The answer is very simple. Whatever makes your business profitable and meets your demand, you should select that factory. The location of the factory becomes irrelevant if your business is profitable and the supply chain is smooth.
A major part of the world chooses to import products from China. That is because China provides products at a much cheaper cost.
So, businesses prefer to get their products manufactured from China so that they can be more profitable. That is the main rule of thumb in any business.
The bottom line is that if you can be profitable by sourcing lashes from a local factory, you should go for it. Otherwise, there is no harm in getting lashes from a foreign lash factory.
How to Know If a Lash Factory is Genuine?
You will come across many suppliers who would pose to be the real manufacturers of lashes. So, in order to find out whether you are talking to a genuine lash factory, you need to ensure the following parameters.
Ask for the factory details.
Show them that you intend to visit their factory even if you don't have a plan to do so.
Ask for the pictures of the lash manufacturing site. Tell them that you are concerned about the health and safety measures of lash manufacturing.
Ask about their manufacturing capacity.
Tell them to share their official factory website.
Visit their social media presence.
Read their reviews.
A good determinator of whether a supplier is a genuine factory or not is by asking him to customize the lashes as discussed earlier in this article.
These are some of the points that would help you determine whether you are communicating with a genuine factory or a wholesale supplier.
Now, we come to the point of how to communicate with a lash factory.
How to Communicate with a Lash Factory?
You need to be professional while communicating with a lash factory. You must know how to message a lash vendor.
You have to show the factory that you run a healthy lash business and you have a good clientele. This way, the lash factory would take you seriously.
The following points would help you communicate with a lash factory in an efficient manner.
Tell them about your business history and details of eyelashes that you sell or intend to sell.
If required, show them the size of the lash market that you intend to target with your business.
Tell them that you may opt for becoming a lash importer for your area.
Show them that you have intentions to become a lash distributor in your area so that you can buy lashes from the factory in bulk quantities.
Discuss the option of importing lashes from the factory while combining your purchases with other businesses in your area.
Factories are very serious with their work. Just try to make them feel that you mean business and they will accommodate you in every possible way.
What is LashFactoryChina?
LashFactoryChina is your one-stop solution to fulfill your lash needs. If you are a business owner, then LashFactoryChina is there to take care of your lash supplies.
You can have the following benefits while doing business with LashFactoryChina.
Having a good opportunity to work directly with a real lash factory.
No middleman or third parties are involved in the whole supply chain process.
One of China's leading lash factories.
Best in price, quality, and service.
Every kind of eyelashes is manufactured in our factory.
Offers complete support to help you lunch a lash business.
Lashes are available with an MOQ of as low as 1 pair per product.
We offer free lash and packaging customization.
Samples are also available to win your confidence before doing business.
Conclusion
You have learned about all of the tips and tricks on how to find a lash factory. It is always a better idea to follow a set of detailed instructions so that you don't miss out on anything important.
Finding a lash factory is a tricky job but with all the guidelines shared in this article, we hope that you can carry out a smooth search for a lash factory yourself.
Still, if you think you are having difficulty in finding a lash factory, do let us know in the comments. You can also contact us any time and we will be there to assist you shortly.