Eyelashes are integral parts of eye makeup. Women have been in love with eyelashes and this interest has always witnessed a steady growth.
According to a verified estimate, the global eye makeup market had a share of around $15 billion in 2020 and it has crossed over $23 billion in 2021 and is still growing. As lashes are the topmost pieces in eye makeup, this business is surely worth billions of dollars worldwide.
That is why we thought to guide you about how to start a lash business in 2022. In this article, you will have complete information about starting a lash business along with tips, tricks, and professional guidelines to make it successful.
Let's start.
A lash business is a business that involves selling eyelashes. This business can be in any form. You can provide eyelashes to the end-users using a business-to-consumer (B2C) model or you can also sell them to other businesses in bulk quantities using a Business to Business (B2B) model.
In both types of businesses, you need to arrange lashes from a professional eyelashes manufacturer.
You can also purchase them from a distributor, middleman, or wholesaler. Ideally, a good business prefers sourcing lashes directly from a lash manufacturer to ensure good profit margins.
Pro Tip: The basic working model of a lash business is the same as it is for any other business. You purchase lashes at a cheaper cost and sell them at higher prices to earn as much of the profit margin as possible.
Is Lash Business a Good Business Idea?
Yes. The lash business seems to be a big thing in 2022 and in the years to come. If we see the trends for lashes on Google Trends, we come up with an encouraging result. We see that the interest in lashes never dropped to 50 points in the last 5 years.
You can see that the interest in lashes worldwide also touched near 100 points in 2021. So, it is evident that people are definitely in love with lashes.
How to Start a Lash Business in 2022?
There are many ways to start a lash business. You can start it at a local level or an international level.
Thanks to technology, there are digital ways to start a lash business in 2022 as well. That's why we have divided the ways to start a lash business into the following categories.
Physical lash business
Online lash business
There are further categories in both types of lash businesses. Let's take a deeper look at each of them.
1. Physical Lash Business
In a physical lash business, you need to open a physical shop where you have to keep the lashes on display. Your customers will visit your shop and can purchase the lashes of their choice.
You can largely categorize a physical lash business into the following two categories.
Local Lash Distributor
If you don't want to deal with every end-user of eyelashes, you can opt for being a local lash distributor.
Lashes are always so much in demand that there would certainly be lash shops in your country. You can order lashes in bulk from China at a cheaper cost and start selling lashes to the local lash shops at higher prices.
Local Lash Store
The other option is to start a local lash store yourself. You will have to display the lashes in your store and sell them to the customers who visit your shop physically.
2. Online Lash Business
In an online lash business, you just need to develop and launch a website or an online lash store. The people interested in lashes will visit your online shop and can order the lashes by seeing their pictures and reading their descriptions.
You deliver the orders of lashes at the addresses of your customers that they would have provided on your website.
Pro Tip: If you want to start a lash business aggressively, you can go for both of the options. You can open a physical lash shop and also launch an online store for the same to accommodate both types of customers.
Following are the subcategories or options for starting an online lash business.
Online Lash Shop
You will have to launch an online store for lashes. You can build a website for this yourself or you can hire the services of an expert for this purpose. The most common stores are built on either Shopify or WordPress (Woocommerce).
You will have to place high-quality pictures of the lashes that you need to sell. Then you need to market your website so that you can gain visitors.
You deliver the lashes that your customers order on your website and the business transaction of your online lash shop will be complete after receiving the payment.
Lash Dropshipping
Another great method of starting a lash business is lash dropshipping. This is one of the hottest methods that require less investment. All you need to do is to find a good lash supplier who offers business-to-consumer (B2C) services.
You will launch a website or an online store for lashes and display the photos of lashes on your website. You can take those photos from the website of the lash supplier.
When you get the order for lashes from any part of the world, you would just have to place it with your original supplier and give the address details of your customer.
The supplier will then ship that product to that address. Your customers will think that you have sent that product. That will make the dropshipping business transaction complete.
That's the dropshipping model. People have been doing it for years and it will be quite relevant in 2022 also.
Pro Tip: You won't have to purchase or keep the inventory of lashes with you in lash dropshipping.
Lash Amazon FBA
If you want to reach the overwhelming market of North America and Europe, go for Amazon FBA. FBA stands for Fulfillment By Amazon. You would have to ship a certain stock of your lashes to an Amazon warehouse and list your products on the Amazon marketplace.
Whenever you get an order on Amazon, it will be picked, packed, and shipped by Amazon itself. You won't have to worry about anything as your lash business would be running on autopilot.
As Amazon will be handling the shipments itself, you may qualify for its premium services like Amazon same-day and 2-day delivery.
Amazon FBA incurs additional costs as Amazon charges warehousing fees even if you are not getting orders. So, if you are not comfortable with Amazon FBA at the start, you can go for Amazon FBM (Fulfillment by Merchant).
Pro Tip: Your presence on Amazon will not be limited to this platform only. As soon as your lashes are available at Amazon, you may start getting connected to the suppliers on other platforms including eBay and Walmart, etc.
Checklist Before Starting a Lash Business
Making a checklist before starting up a new business is always a good idea. Being the expert in the field of lashes, we have helped you make this checklist. You can take help from this checklist whenever you start a lash business.
Market Research
Carrying out detailed market research is always a good idea. The same goes for starting a lash business. You would have to start from your closed circle and see if there is a demand for lashes among your friends, family, and peer group.
From there onwards, you would have to expand your research to other segments of society. Look for makeup accessories and try to find where eyelashes stand in that market.
Identifying Gaps
Check what types of eyelashes are already available in the market and see if there is a gap between the demand and supply. There is always a gap in any kind of business. It may be in the form of products or services. You just need to dig deeper until you come up with the gaps that you can fill.
Sourcing Eyelashes
This is probably the trickiest part of starting a lash business. You would have to carry detailed research to finalize your lash sourcing partner.
As China has fairly become the center of the world's sourcing, it is highly recommended that you look for a sourcing partner from China. The rates and services that you will get from a Chinese supplier are unmatchable with any other supplier.
Just make sure that you know how to message a lash vendor. You must send a comprehensive message to the lash vendor so that you get a detailed reply.
Following are the extended tips that you may have to check in a lash supplier. The more you find these qualities in a supplier, the more you will inch closer to finalizing your lash sourcing partner.
Try to source lashes from a supplier from a direct manufacturer of lashes. This will slash all the margins that wholesalers or middlemen would be adding up before quoting their final prices.
A good lash supplier should have the maximum range of lashes so that you can offer a wide range of lash varieties in your business.
In addition to lashes, the supplier should also have the related lash accessories.
Offers unbeatable prices that ensure a good profit margin for your lash business.
Ready to share samples of eyelashes.
Highly cooperative and is good at communication.
Extremely responsive and is accessible at any time you need him.
Has a complete understanding of the lash retail business.
Has a track record of supplying lashes to multiple lash businesses.
All of the above-mentioned qualities are quite rare to find in a lash supplier. LashFactoryChina takes pride in having all of these qualities and is always willing to help new and existing lash businesses to flourish in no time.
Exploring Eyelash Accessories
A perfect lash business is never short of lash accessories. Your lash business must also cater to the needs of lash accessories including eyelash extensions and eyelash glues, etc.
Try to find all the lash businesses that offer the complete package of lashes. Those businesses will be your direct competitors.
Easy Accessibility
A good business is always accessible. Having an official email ID and contact page on your website was considered enough before. But businesses have started using faster contact methods like WhatsApp. That is going to be the name of the game in 2022.
Incorporate your official WhatsApp number on your website and social media pages. This will help visitors contact you directly without any delays.
Fast Delivery System
Amazon took over the major portion of global e-commerce due to one distinguishing factor. That's the lightning bolt delivery system. Once a customer has placed an order, every second should count. Try to partner with overnight delivery systems while doing a local lash business.
You can negotiate with your original suppliers to choose a faster delivery option if you would be dropshipping lashes. As Amazon ships and delivers products in FBA, you won't have to worry about the delivery while doing Amazon FBA. Yes, you would have to take care of delivery times if you are opting for Amazon FBM (Fulfillment by Merchant).
Using the fastest delivery methods is always advisable in any kind of business. That way, your customers will always remember your business for its premium delivery services.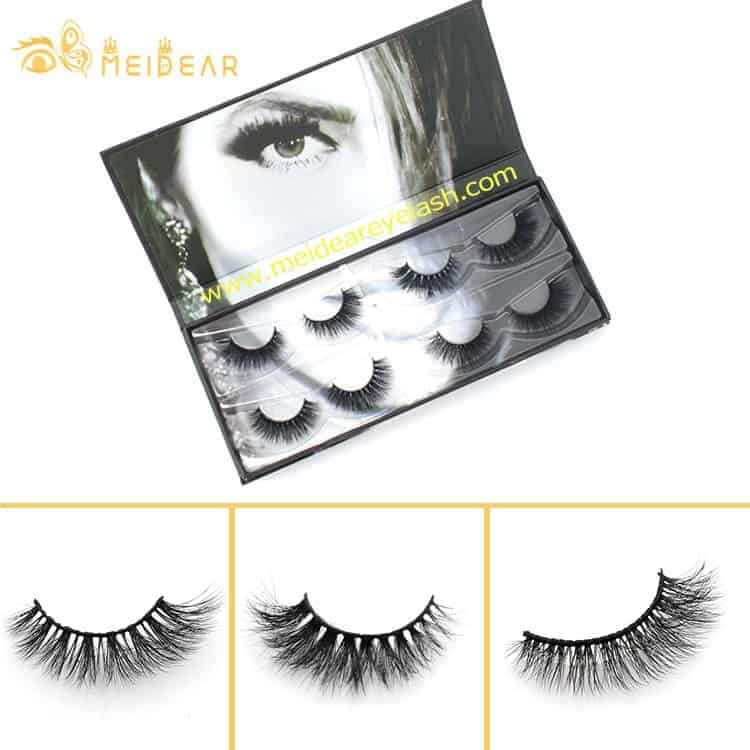 Budgeting and Costing for a Lash Business Startup
If you are planning to start a lash business, then you would surely be wondering about how much money you would need to successfully launch a lash business.
This section will help you give an idea of the costs you would require to launch and run a lash business successfully.
The cost of starting a lash business will depend on multiple factors. So, there's no simple answer to it. If you intend to start big, you need higher investment. If you just want to check whether things work out for you in this business, you can even start with as low as $100.
Let's analyze the budget and costs of starting a lash business according to the types of lash businesses that we discussed earlier in this article.
Cost of Starting a Physical Lash Store Business
The physical store costs a decent amount. You would have to incur the costs of the following factors for launching a physical lash store.
The upfront cost of having a physical store and a warehouse.
Monthly recurring costs of a physical store including its rent, utility charges, and building the sales and delivery networks, etc.
Calculating the average cost of running a physical lash store, you can say that the upfront cost or budget of $500 to $1000 would be required.
For the running cost of a physical lash store, a budget of $200 to $300 per month would be required until you start making profits.
Cost of Starting an Online Lash Business
Contrary to the physical lash store, the online lash business would cost you less. As the world is moving more and more towards being digital, you must not ignore this powerful source of income.
You would need the following major costs of running an online lash business.
Website costs
Marketing and advertising costs
Delivery network costs
The website costs would be around $100. You may need another $100 for the marketing and advertising costs to promote your online lash store. The delivery contracts might be somewhere around $50.
So, the upfront costs to launch an online lash store would be somewhere around $250.
Cost of Starting Lash Dropshipping
Starting a lash dropshipping business is one of the cheapest yet effective ways of doing a lash business. In this case, you won't have to invest even in purchasing the lashes before selling them. In addition to that, you won't have to spend on any kind of warehousing or fulfillment fees, etc.
You would just have to spend on the following main areas.
Building a complete online lash store
Marketing, advertisement, or SEO costs to secure orders.
That's pretty much it with dropshipping lashes. You just have to upload the lash pictures of lashes from the website of your original supplier and start marketing them. You get the order and you place that order to the source website and ask them to deliver the lashes directly to your customers.
Pro Tip: You don't need to share the email IDs of your customers with your lash supplier. You may want to keep them with you for Email Marketing and sharing future product pitches.
So, you can say that the cost for lash dropshipping would be somewhere from $100 to $200 to kickstart this business.
Cost of Starting Lash Amazon FBA
Amazon FBA is altogether a different game plan. That's why it has different budgeting and costs. Amazon has a set limit of inventory storage. You would require at least 10 cubic feet of inventory in the Amazon warehouse to qualify for Amazon FBA.
That may end up storing a bigger volume of lashes at Amazon warehouses. Depending upon the cost and types of eyelashes, you can consider this amount to be somewhere around $3000.
Other costs would include the expenses of running and managing Amazon seller accounts. You may hire a virtual assistant for this purpose for around $500 a month.
Tips to Launch a Successful Lash Business
Here are some tips to make sure that you are on the right track. Following and implementing these tips would surely make you stand out and gradually capture the lash market.
Lash Customization
This is one of the best methods to make your business a brand for lashes. You can get your lashes branded and customized from any supplier. LashFactoryChina accommodates lash customization in many ways. You can customize the length, color, and shape of eyelashes.
This would introduce your business as a trustable lash brand.
Free Sampling
If you are hungry for quick sales and orders of lashes, free sampling would not be a bad idea. But don't give free samples to individuals. That may cost you a lot.
You can deliver samples to the salons and spas along with lash retailers so that you get bigger order quantities in return for your free samples.
Exploring Spas and Salons
Spas and salons are the ideal places for eyelashes. A good spa and salon center must keep the stock of lashes to meet the demands of eye makeup. Therefore, you must explore such places to ensure that your business is listed with them as a supplier.
Whenever they need eyelashes, you must always be a call away.
Contacting Mega Marts
Mega shopping marts are also the places that you must never ignore. You can contact the mega marts in your area personally to share the list of eyelashes that you have. You can also contact the marts online that are away from your business to cater to their demands too.
You may offer special discounted prices for the marts because they also have to keep their profit margins before selling products to the shoppers.
Using the Power of Social Media
Your business must have a full presence on every mainstream social media. Social media is such a powerful platform that you would get orders directly on your social media page.
You would also need to advertise your best lashes or your business page on social media to increase social awareness of your lash business.
Influencer Marketing
This is one of the most effective ways of promoting your business or products. You can look for female celebrities who have a good fan following. This should be the kind of a person whom women follow for fashion or makeup recommendations.
A model or a fashion icon would be more appropriate in this regard. You can contact that celebrity and ask to promote your eyelashes. You may have to send some free samples of eyelashes and pay the celebrity a decent amount to promote your lashes.
A single post from a fashion icon in favor of your eyelashes can boost your business dramatically.
Impeccable After Sales Services
A good sales cycle doesn't just end when the payment is received and the order is delivered. It just starts from that point. You need to value every customer and always respond to their after-sales queries.
You may have to offer free returns and refunds if a customer was not happy with your lashes or the lashes your customer received were damaged or were not as described.
Offering such after-sales services will increase your lash business to manifolds.
Knocking Out the Lash Competition
Coping with the competition and keeping a close eye on their campaigns is the key to success in any business. The same is true for a lash business too.
A good way to know about your competition is to check the advertisements your competitors are running.
You can check for the Facebook advertisements via a Facebook service called Facebook Ads Library.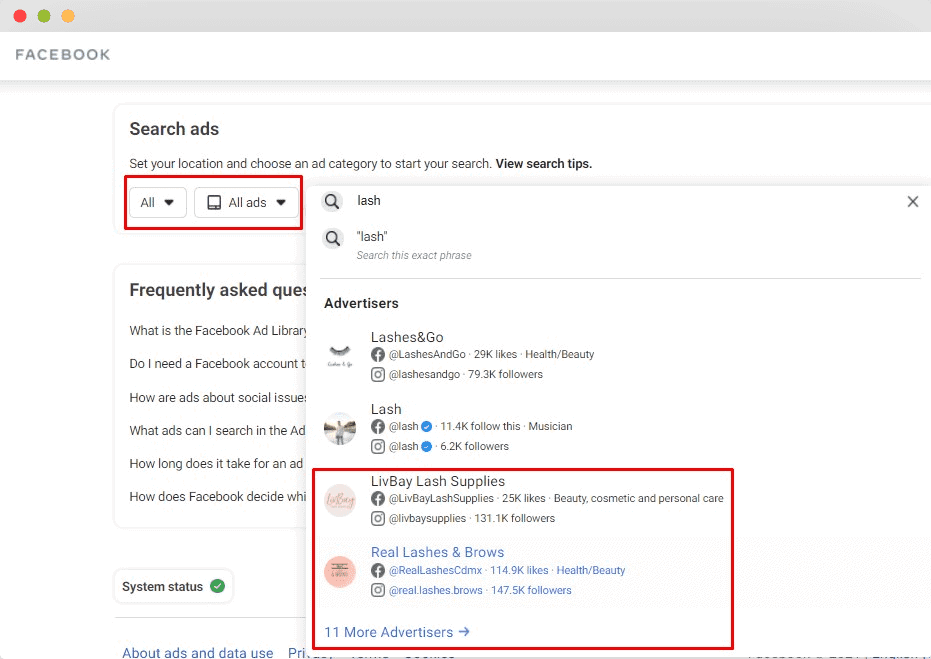 You just need to type the names of your competitor's Facebook pages in the search bar. The relevant business page will appear and all running ads will be shown to you. Just make sure to select "All" in the country filter and "All ads" in the ad categories filter.
If you are not sure about your competition yet, just type in the keywords related to lashes. For example, I typed "lash" in the search bar and got the results as shown in the screenshot above.
By using Facebook Library, you will know about the social media pages of your competitors and what ads they are currently running. See the screenshot below.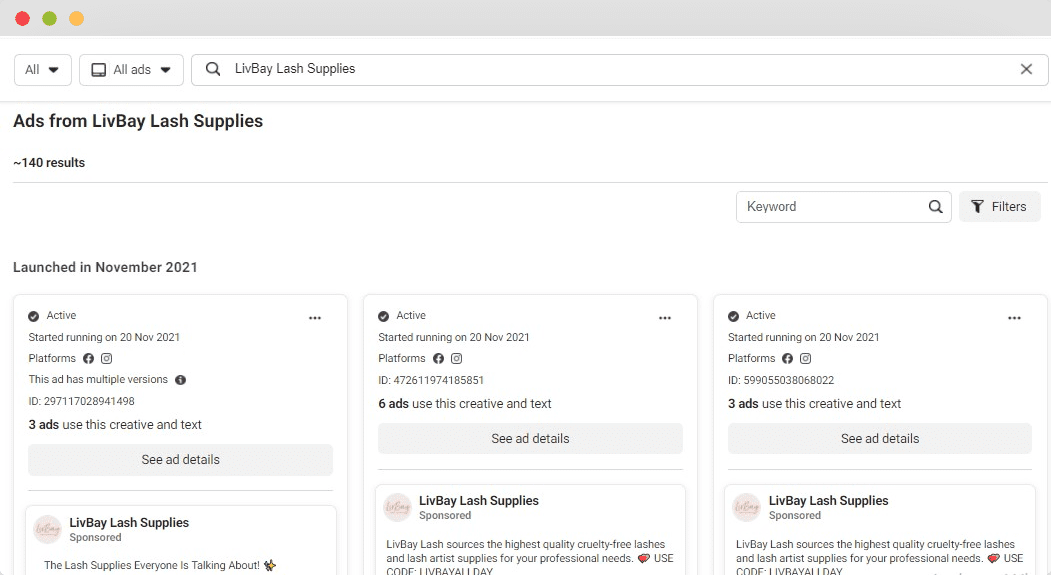 Just make sure that you are always a step ahead of your competitors if you want your lash business to be successful. You just have to type the names of your competitors' pages and their Facebook ads will show up.
You know what to do after that. That's right! Create and launch better advertisements and products.
Pros and Cons of a Lash Business
Last, but not least, let's discuss the pros and cons of a lash business. This is important to discuss because you must be aware of all the positive and negative factors of a lash business before starting.
So, without any bias, the following are the pros and cons of starting a lash business.
Pros of Lash Business
A relatively newer business as compared to other traditional businesses.
A lot of growth potential as beauty and personal care niches are growing day by day.
It is a less competitive business idea as there are not many players in the market in the lash business.
Profit margins are higher especially if you work with a Chinese supplier.
Cons of Lash Business
Delivery costs may sometimes be even higher than the cost of an eyelash pair. This is especially true for the B2C retail business model.
You need to be extra careful to ensure that the lashes are safe to use as they involve eyes.
The whole lash business may be difficult to handle for a single person due to the multiple varieties and different variants of lashes.
Final Words
You have gone through the first-hand information on how to start a lash business in 2022. We have tried our best to cover every aspect of starting a successful lash business.
We hope that you must have got value out of this article. Do tell us in the comment or via email or WhatsApp regarding how this article helped you.
If you have any queries regarding a lash business, do contact us and one of our representatives will be right there to assist you.
Meta Description
A detailed guide on how to start a lash business in 2022. Click to know the successful lash business recipe.