Did you know that an average lash technician earns up to $20-$25 per hour? It proves that doing eyelash extensions is a profitable business. That's why more women are coming into it. But, how to start an eyelash extensions business?
Starting your own lash extensions business requires a few considerations. So, we have discussed them in our guide. If you love doing eyelash extensions and want to establish it as a source of your income, we'll help you start the business from scratch!
Here's a complete guide on starting an eyelash extensions business!
1. Get Your Eyelash Extensions Business Training Certificate
Doing eyelash extensions is not a joke, and people cannot trust anyone easily. So, you must have a training certificate. It will prove that you're a professional and certified lash technician.
If you don't have a certificate, you can consider enrolling in a course. You can find several low-cost courses, but their credibility can be questionable.
On the other hand, expensive courses are also not always the best.
So, the right option is to do your research and look for the best eyelash extensions courses. After all, you don't want to risk your career and waste your money!
2. Check Your Eyelash Extensions Business State Requirements
The rules for lashing will vary for different states.
However, the two things everyone will need are:
A training certificate
A business license
Both of these are essential. Even if your state doesn't make them compulsory, having a registered business will save you from many scams and losses in the future. Also, it will help you gain the trust of potential customers.
However, some states have a strict rule that you must have a cosmetology license before giving your services as a lash technician. On the other hand, some will provide you with a license if you have several years of experience in this field.
So, make sure to check your state requirements. If your state requires you to have a license, make sure to get one. Otherwise, you may be starting an illegal business.
If you're confused, your state licensing board will help you with it.
3. Register Your Eyelash Extensions Business
After becoming a certified cosmetologist or lash technician, the next step is to register your business. Again, it might vary from state to state.
But, your business is liable to taxes, no matter how small or big. So, registering your business is the best choice to save yourself from heavy fines.
Always remember that a registered business and certifications are a bridge to gaining customers.
4. Find A Reliable Eyelash Extensions Vendor
When it comes to eyelash extensions, you cannot compromise on the quality.
Even if you take care of the hygiene and perform your best practices, poor-quality extensions can damage your customer's eyes. And as the case will be with a person's eyes, you can also be sued or fined.
So, buying high-quality extensions from a professional eyelash extensions vendor is necessary.
Now, it's not a hard and fast rule that the best quality comes with increased prices. The lowest quality ones aren't the least expensive too.
So, make sure to do your research and consider things ahead of just money.
The best practice is to visit the manufacturer's website and look for previous customer reviews.
If you think it has all the qualities of a professional eyelash manufacturer, you can go for it.
5. Set Up A Salon Or Start an eyelash extensions business from home.
Whether you want to set up a salon or start your business at home will somehow depend on your budget.
The best thing about an eyelash extensions business is that you can start it from your home. Also, starting at home won't drastically affect the customer reach.
But, setting up a professional salon is still the best idea. A salon will consist of all the essential tools, and you'll have a proper place to do the work. It also makes your business look more professional.
However, if you don't have enough budget to build a salon, you can start your business at a place in your house. But, make sure that room is only for your lash extensions work. For example, if you choose the guest bedroom and optimize it as a salon, don't use it for the guests later.
Also, getting all the supplies for eyelash extensions in the home can make it look good. You can buy a chair for the customers to sit and add lights for a better working experience.
After all, you need to make your customers feel at home, so they can keep coming back!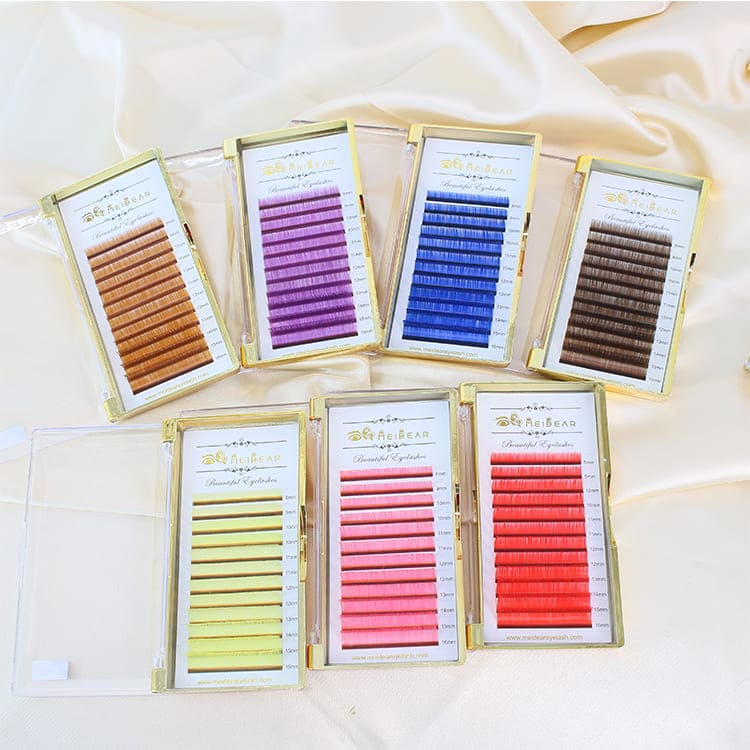 6. Offer Reasonable Prices
Although eyelash extensions are expensive, it doesn't mean you will keep your prices high as well.
Instead, try offering competitive prices without making yourself go at a loss.
The best way is to check the prices of your competitors. You can also decide the charges by determining the amount you invested into the business.
Apart from the cost of the glue and extensions, you'll also be putting in your efforts.
So, we think that you should charge no less than $100 for a pair.
As your business grows, you can increase the charges.
7. Market Your Eyelash Extensions Business
Marketing your business is the most important thing to help it grow. When you use effective marketing techniques, your content reaches more audiences. In this way, they know more about your business.
Luckily, you don't have to spend too much money on marketing your eyelash extensions business.
Setting up a social media page and letting people know about your services will also help.
You can also do extensions for your friends and family and upload their pictures and reviews.
Another idea is to let people see your salon. A professionally-looking salon will also attract ladies!
If you want to go a step ahead, we recommend building your website. Ask your customers to book their appointments. It will make you look like a pro.
Final Words
Starting an eyelash extensions business will need a specific amount of investment and effort from your side.
So, pre-planning everything is essential to make your business run smoothly. Our tips on how to start an eyelash extensions business will help you through the process. But, your consistent efforts and patience will make your business reach heights!