Are you ready to start your eyelash business? Wondering how to order custom eyelash packaging and eyelash box? Lash Factory China is here for you!
Custom eyelash packaging boxes have a very significant effect on your brand. Bulk eyelash packaging with a marvelous design and an alluring coating is more attractive to clients.
How to order custom eyelash packaging & eyelash box? Identify a custom eyelash packaging vendor or manufacturer that offers custom eyelash packaging. Request for a packaging catalog and choose a design that suits your needs. Send your eyelash packaging logo and the number of eyelash boxes you want. Make your payment and receive a sample within 24 hours for confirmation. Production should begin immediately.
Lash Factory China is your go-to partner for custom eyelash packaging. We have over 30 designs in our package catalogue. Change the eyelash box color, shape, size, and print as you desire.
We are the best custom eyelash packaging & eyelash box vendors in the industry. Our team of designers will help you in designing your custom eyelash packaging box
5 Important Things To Consider Before Ordering Custom Eyelash Packaging Box
Your eyelash packaging box should contain the following 5 parts;
1. Eyelash Packaging Brand Name And Logo
Your custom eyelash packaging box vendor should imprint the brand name and logo without changing the structure. The logo should maintain the original format and shape.
Your eyelash brand logo should match what your brand name describes. Order custom eyelash packaging with your unique logo and brand name.
The custom lash box vendors should maintain the same font style used in the registered brand name. This helps to enhance the authenticity of your brand.
2. Eyelash Packaging Pattern & Theme Colors
Choose a custom eyelash packaging wholesale vendor that retains the theme color and patterns of your eyelash brand. Match the colors on your lashes website with the colors of your custom packaging boxes.
3. Eyelash Packaging Brand Slogan
A catchy slogan amplifies your lashes brand name. Be sure to imprint your slogan on the packaging box. It is an important selling point.
Choose a custom lash boxes vendor that can creatively imprint your eyelash brand's slogan on the lash packaging box. No matter how small the lash box is.
4. Eyelash Packaging Contact Information & Social Media Information
Did you know that some people fall in love with what meets the eye? Someone may only see your lash brand's packaging box and desire to order your lashes.
Adding contact details and your social media handles makes it easy for clients to reach you.
Eyelash packaging is as important as the product itself. The shape, size, color, & style of your packaging box attracts clients to your product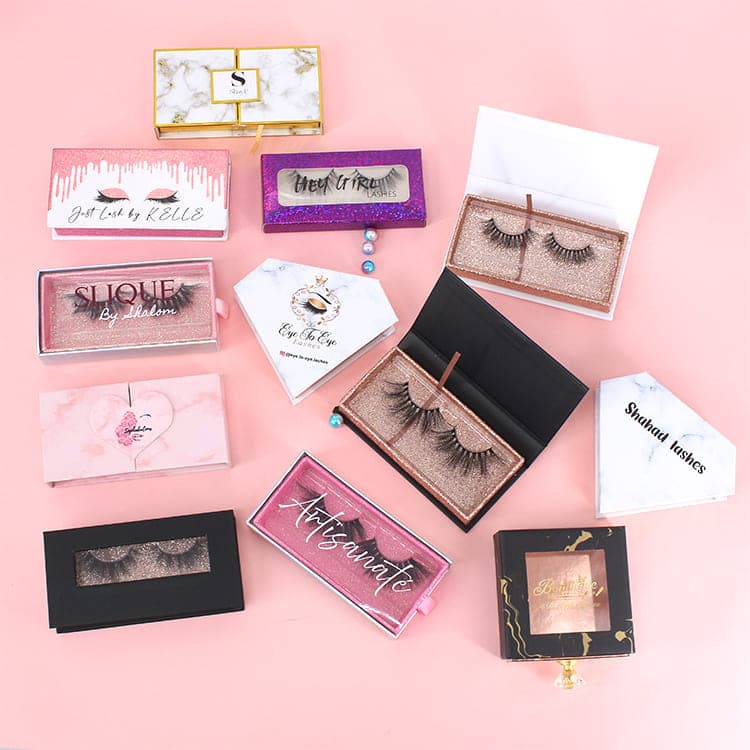 5 Steps Of Ordering Custom Eyelash Packaging & Eyelash Boxes
Here is a step-by-step guide to help you in ordering your custom eyelash packaging boxes
1. Identify The Type Of Eyelash Packaging You Want
Understand the value of eyelash packaging box custom in increasing buying behavior. Do this before making an eyelash packaging order. The more appealing your eyelash boxes are the more your business value increases.
A lot goes into the type of eyelash packaging and eyelash boxes. This includes;
The material of the packaging boxes
The type of print used on the eyelash boxes
The design of the eyelash boxes
The coating used on the packaging boxes
The color of the packaging boxes
1. The Material Used For Making Eyelash Packaging bulk
Different eyelash packaging manufacturers use different materials in private label eyelash packaging. Look for a lash packaging maker that has a variety of materials to choose from before making a lash packaging bulk order.
The most popular eyelash packaging materials include;
Cardboard eyelash packaging
Cardstock eyelash packaging
Acrylic eyelash packaging
Kraft Paper eyelash packaging
Cardboard is the best material for custom eyelash packaging and eyelash box. It is thick and offers good protection.
Cardboard and cardstock materials allow the lash packaging wholesale manufacturer to play around with prints. Your lash packaging logo and other print details are perfectly imprinted on cardboard and cardstock.
Lash Factory China uses the client's preferred material for the custom eyelash boxes. We are always ready to advise the best material to choose based on your budget.
2. The Design Of The Eyelash Packaging
Go for dramatic and eye-catching eyelash boxes. Clients love eyelash boxes that stand out in terms of style.
The most common eyelash box style includes;
Tuck end eyelash boxes
Drawer eyelash boxes
Sleeve eyelash boxes
Two-pieces eyelash boxes
Straight tuck end eyelash boxes
Lash Factory China manufactures different styles of lashes packaging for clients. We are competent to create a unique style for your private label eyelash packaging.
Order our P28 magnetic packaging box fitted with a mirror if you wish to be more creative and extra. The little unique details will increase your lash business revenue through high sales.
3. The Shape Of The Eyelash Boxes
Choose a luxury eyelash packaging vendor that creates different shapes of eyelash packaging boxes. The most common eyelash box shapes include;
Rectangles
Squares
Circles
Diamond
Lash Factory China manufactures all your desired shapes for your eyelash brand. Choose luxury lash packaging from our packaging catalogue. We will customize the shape for you. Contact us for more info.
4. The Coating Styles Of Your Eyelash Packaging
The coating used is like the icing on the cake. Choose an attractive coating that matches what you feel about your brand.
Common Coating styles
Holographic
Glitters
Dripping Design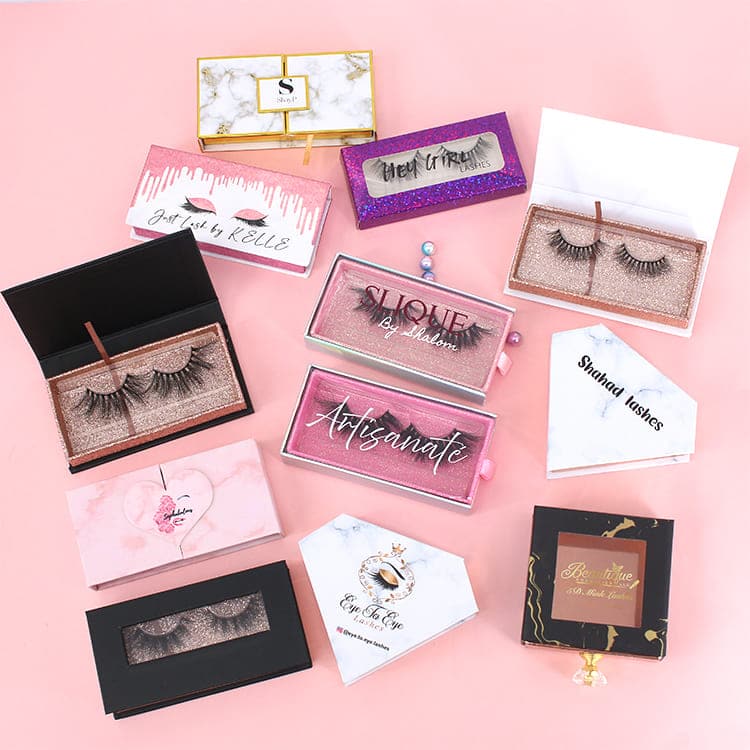 2. Identify An Eyelash Vendor That Offers Custom Eyelash Packaging & Eyelash Box
You already know the best eyelash packaging that will work for your brand. It is now time to look for a wholesale false eyelash packaging vendor that will meet your needs.
Get on social media or Google. Search for 'custom eyelash packaging & eyelash box'. You will get thousands of results to choose from.
Choose a wholesale custom eyelash packaging box vendor that delivers quality eyelash packaging and eyelash boxes. Professional eyelash vendors have designers that assist clients with designing their lash boxes.
Send your lash brand logo and desired message to your vendor. If you don't have a logo yet, the lash packaging designers should help you create one.
Lash Factory China has qualified designers that help our clients with their eyelash packaging designs. Communicate with us on WhatsApp or Email.
3. Ask For A Price Quotation For Your Wholesale Lashes With Packaging Bulk Order
Professional eyelash and eyelash packaging manufacturers have discounted prices for bulk orders. Choose a wholesale lash packaging vendor that offers affordable prices to manufacture your custom eyelash boxes.
Some lashes custom packaging manufacturers may charge you to create a custom design, while others will do it for free. Go for a lash vendor packaging manufacturer that offers design services for free. It's a sign of good customer service.
Confirm your order by making the agreed payment to your wholesale eyelash packaging vendors. Ensure that your vendor sends you a confirmation message upon payment.
At Lash Factory China, our clients are our priority. We custom eyelash packages for free through our team of designers.
In addition, our charges for manufacturing the lash packaging boxes are very friendly. Our MOQ is 10 pieces. Get your bulk eyelash packaging box from us for as little as $0.3 per piece.
4. Request For Eyelash Packaging & Eyelash Box Samples
Before ordering your eyelash packaging & eyelash box in bulk, request samples. Professional eyelash packaging manufacturers send samples to clients within 24 hours.
Get your samples after confirming the type of wholesale lashes packaging you want. Choose an eyelash packaging vendor that allows making changes to the sample.
Lash Factory China will send your eyelash samples within 24 hours. Only after completing your payment. We allow our clients to make changes to the box template for maximum satisfaction.
5. Order Custom Eyelash Packaging & Eyelash Box
The final step is to make an order after a successful payment and designing process. Choose wholesale lashes and packaging vendor that is swift and professional in manufacturing your lash boxes.
Delivery may vary depending on the shipping method used by the lash packaging vendor. Choose a vendor that offers different shipping options.
Lash Factory China appreciates the fact that our clients are global. We use FedEx, UPS, DHL, or by ship to deliver your packaging boxes.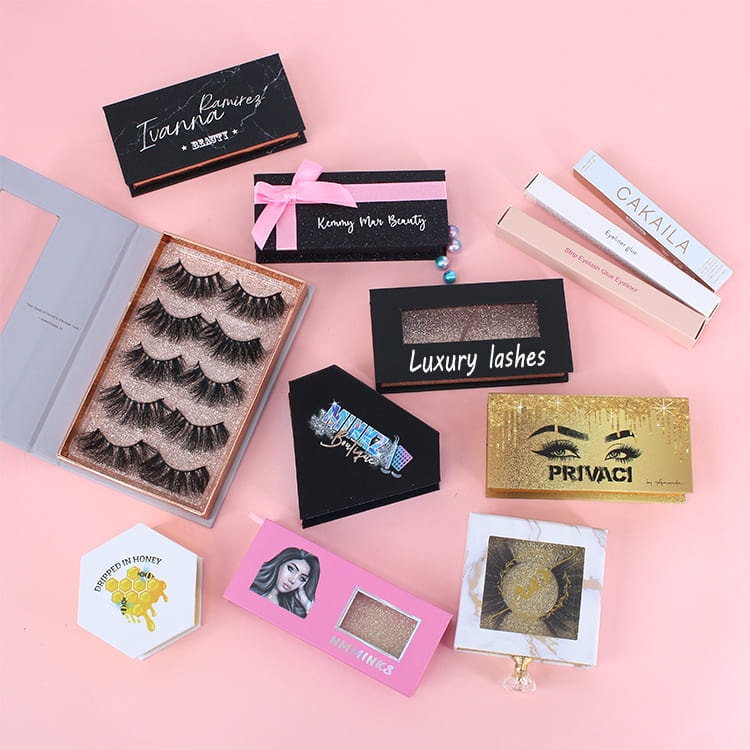 Quick Guide On How To Order Custom Eyelash Packaging Boxes From Lash Factory China
Visit our website or contact us on WhatsApp or Email. contact us by WhatsApp: 008613176398069. contact us by email: sale@meideareyelash.com.
Select the box number you desire from our package catalogue.
Let us know the quantity of eyelash packaging boxes you want.
Let us know the custom design you want for your eyelash packaging boxes. All our boxes can change color and shape to your liking.
Send us your logo in a vector file. It could be AI/EPS/CDR format.
Let us know the colors to use. We advise you choose colors based on your lash brand's theme color.
Inform us of all your other demands you need on the eyelash package.
Wait for a box template after you make your payment. We allow you to make changes to the packaging box.
We will send you samples of your custom eyelash packaging box within 24 hours.
Production begins after confirming the template. We take the least time possible to manufacture and deliver your custom eyelash boxes.
5 Benefits Of Ordering Custom Eyelash Packaging & Eyelash Boxes
Custom packaging has a notable impact on the growth of your eyelash business. Eyelashes with attractive custom lash packaging have a higher chance of a sale. This is in comparison to those without.
Here is a list of benefits of ordering custom eyelash packaging
1. Printed Eyelash Boxes Are The Best Point Of Sale For Your Eyelashes
Adding a lash logo and brand name to your eyelash boxes makes your product more visible to clients. More people will get to know about your eyelash brand.
2. Printed Eyelash Boxes Increase Consumer Trust And Loyalty In Your Eyelash Brand.
People love to identify with a brand. More so, when it comes to the beauty and cosmetics industry.
A unique packaging box makes more sense to the clients more than it does to you. It gives potential and existing clients an element of association with our brand.
3. Custom Eyelash Packaging Increases The Value To Your Eyelash Business
The beauty industry is more of a mind game. The more attractive a product looks from the outside, the higher the sales.
Choose an eye-striking lash packaging style, design, color, and shape. Your sales will go up, leading to increased revenue in your eyelash business.
However, ensure that the eyelashes match or even exceed the packaging quality. Eyelash enthusiasts are unapologetic about ditching poor-quality lashes.
4. Custom Eyelash Packaging Enhances Your Lash Brand Image
Having custom lash box packaging for your eyelash brand shows how organized you are. It is a sign of commitment to quality.
The value you give to your lash brand is equal to the value you receive. If you put effort into creative eyelash packaging, the value back will be a positive brand image.
5. Custom Eyelash Packaging Saves You Money When Ordered In Bulk
Order your custom lash boxes in bulk from your vendor to get discounted prices. Choose a vendor with a low MOQ limit and offers free designing services for your lash boxes.
You will save a lot compared to the price you would incur by ordering single boxes. You will feel the impact of the saved cost in each set of eyelashes sold.
Final Thoughts
Use your brand colors on your custom lash packaging. Brand visibility increases when the lash packaging matches what clients find on the lash website.
Unique and alluring customize eyelash cases have a high market demand. Sales for quality eyelashes with quality packaging are high.
Visit our website to order custom eyelash packaging boxes. Our designers will design your custom eyelash boxes for free! If anything you need, contact us by WhatsApp: 008613176398069. contact us by email: sale@meideareyelash.com.