The most important step to wholesale mink lashes is to choose a professional and trustworthy eyelash vendor. Then select the eyelash style you want to order. To make your eyelash business more professional, you can also wholesale mink lashes and packaging with your logo printed on them.
1. Find professional wholesale mink lashes vendors in effective ways
There are many ways to find wholesale mink lashes and packaging vendors, you can go through Google, Amazon, Alibaba, Ins, YouTube, Facebook, Tik Tok, etc. First, if you want to find wholesale mink lashes vendors through Google search, you can do so by searching for keywords. You can search for "wholesale mink lashes vendors", "wholesale mink lashes" in the search box. Google will suggest many websites for you, and you can choose any one of them to browse. If you are interested in the wholesale mink lashes vendors on the website, you can contact the mink lash vendors via the email WhatsApp on the website homepage. A small tip for you, if you don't have WhatsApp, you can go to the app store and download one and register it with your mobile number. Most of the buyers are contacting the mink eyelash vendors through WhatsApp. Because it is more convenient to communicate through WhatsApp. Can show you the pictures and videos you are interested in more quickly. You can order directly on Amazon and Alibaba websites, if you have any questions about the product, you can contact customer service to ask, customer service will respond to you within 24 hours. There are also many mink lash vendors on Ins, they often post pictures and videos of their products, if you are interested, you can share the corresponding post with them and they will contact you. As for YouTube, you can comment under the videos you are interested in to get the mink lash supplier's contact information.
After deciding on the final mink vendors, you can pick your favorite mink lash style from the catalog. If you don't know which eyelash styles are popular recently, you can ask your real mink lashes vendor to recommend them for you. Since they have a lot of contact with customers, they know exactly what styles their customers like. The styles that customers choose the most must be the ones that are popular in the market. Because different customers have different needs, when choosing eyelash styles, choose as many styles as possible to mix. Different makeup looks, different dress styles, different occasions, different professions, all require different styles of eyelashes to match. So as a professional eyelash supplier, I suggest you mix many different lengths of lashes. Your mink eyelash business can only be better if there is more variety available for your customers to choose from.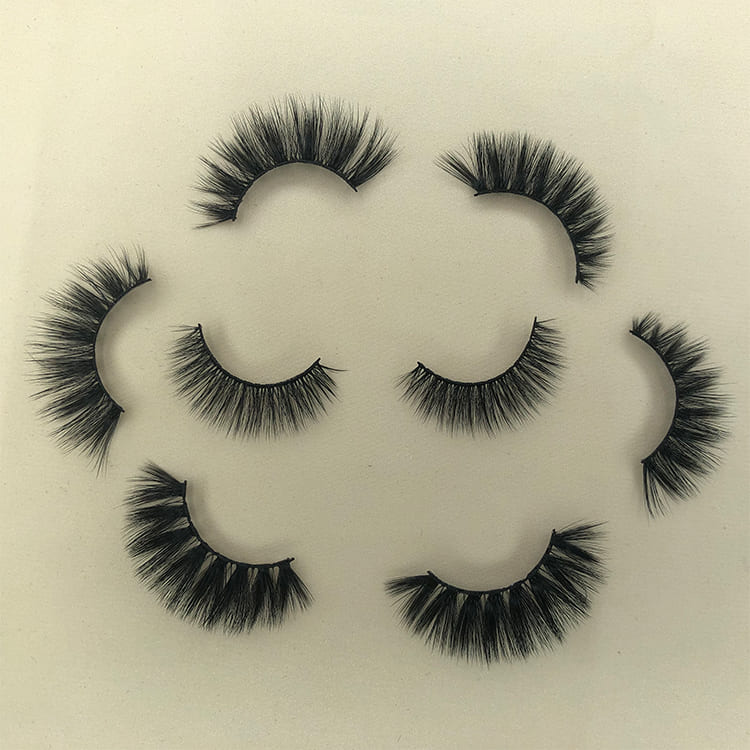 3. Choose the wholesale mink lashes with custom eyelash box that corresponds to your brand.
A mediocre eyelash package won't catch the eye, even if you have top-quality mink lashes. A wholesale custom eyelash box that echoes your brand will not only be pleasing to the eye but will also prevent your lashes from being crushed in transit. First, you need to confirm your mink lash brand name and logo before custom eyelash box packaging and register your social media presence. Next, choose the lash box you like. You need to confirm the style of eyelash package you like. There are many different styles of eyelash boxes, including different colors, shapes, patterns, etc. You should determine the style of the box according to your logo. All mink lash packaging can be customized, so if you have any ideas and design requirements, you can explain them to your mink eyelash vendor. Your logo can be printed on the front, the social media information can be printed on the back. If you have enough budget, you can also print the name of the lash or the style number around the box. That would be a very big highlight!!!
4. Purchase mink lash samples to test product quality.
After choosing your final mink lash supplier, I recommend that you first purchase mink lash samples for testing. You must guarantee the quality of the mink lashes you sell. If the samples are not of good enough quality, you should be glad you didn't put all your money into them. If the quality of the lashes is good enough, then you can order large quantities and be able to guarantee the quality to your customers as well! Regarding eyelash sample orders, there is generally no minimum order quantity required. You can mix all the eyelash styles you want and order any quantity you want. If you want to buy sample lash boxes, I don't recommend you print your logo. because the cost of printing few sample boxes is very high. If you just want to check the quality of the box, you can buy a plain box. If you are worried that the final printing result is not good when you buy the boxes with your logo printed in bulk, I can tell you that there is no need to worry at all. Because the factory will produce a sample box with your logo for you to check first. If you have any dissatisfaction, the factory will promptly adjust and produce again for your confirmation. Only when you are satisfied with all the designs will we start mass production for you.
What Are Mink Lashes?
Mink lashes are made from the real fur of mink and are designed for women who prefer a more natural-looking artificial eyelash. The mink lashes are made with 100% real top-class mink hair.
1. Made Of Mink Fur
All raw materials for mink eyelashes are made from mink hair. However, not young mink, but adult mink hair that is naturally shed is collected. Intuitively, mink lashes are more natural, with lashes that are all naturally curved and more curved in curvature. Some are curved from the root, some from the middle, and the whole is more fluffy with some fine webbing. Because the material used is mink hair, so it is closer to the real hair. Mink hair is made from the natural shedding of adult mink hair, and there is no animal cruelty, so mink eyelashes are all cruelty-free.
2. Clearly Different From Faux Mink Lashes And Synthetic Lashes
Since the raw material for mink eyelashes is mink hair, it is closer to the human's own eyelashes. It is very natural and more luxurious. The band of mink eyelashes is made of special cotton thread, which is very soft and light. And not easy to fall off, can be tested by very violent rubbing. If you wear it for a long time and thus stick to the cosmetics, you can use makeup remover and water to clean it. After cleaning and drying with a hairdryer, it will be as good as new again. Good quality mink lashes, if used properly, can be reused 30-35 times. Compared to mink eyelashes, faux mink eyelashes and synthetic eyelashes naturally have a very different appearance due to the difference in raw materials. Synthetic eyelashes are bent to the same degree after high-temperature treatment because of the different materials. The final 3D effect is produced later by extrusion, mainly by pressure. It is bent from the roots and looks artificially obvious. Faux mink eyelashes are made of mink-like material and are mainly offered to completely vegan customers, with the exact same process as for mink fur. The effect is most similar to that of mink hair, the 3D effect is more obvious, and the price is cheaper than mink eyelashes. Synthetic lashes look shiny. Their curvature is artificially made, so they look very dull. Not particularly natural to wear.
3. Handcrafted Custom Products
Mink eyelashes are purely handmade products, using high-temperature treatment, the principle is that different proteins have different tolerance to high temperatures, resulting in different degrees of bending.
Why Are Mink Lashes So Popular?
Do you know why is mink lashes so popular? Because the curvature of mink lashes is naturally curved, they look as natural and fluffy as your lashes. Purely handmade, more luxury. High-end products at reasonable prices. And mink lashes are softer and lighter than other materials.
1.Made With Real Mink Hair
Mink eyelashes, as the name implies, are made of mink hair. The materials needed to make mink eyelashes are also required. To protect small mink animals, mink eyelash suppliers use Siberian mink hair that is naturally shed by adult mink collected by specialized workers. The collected mink hair needs to go through multiple processes for processing, and the final materials used are of the highest quality. If you have sensitive skin around your eyes, then real mink lashes are the best choice for you! Real mink lashes are usually more comfortable and feel lighter on your eyes than synthetic lashes. We will make sure that the products we produce are of the highest quality. Because the material used to make mink eyelashes is real Siberian mink eyelashes, which are animal hair and very similar to the composition of our eyelashes, the effect is the most natural. Who does not want their carefully applied makeup to be the most perfect? If you use faux mink eyelashes makeup effect will be greatly reduced. I think this is one of the main reasons for the popularity of mink lashes. To give a simpler example, a brand of clothing and an imitation of the clothes, although the surface looks the same, the feel, material, the effect on the body, the use of years are very different. The same is true for the difference between mink eyelashes and false eyelashes of other materials. It is because the experience of mink eyelashes is the best that it has become the most popular.
2.Does Not Deform Easily
Since mink eyelashes are made from mink hair, they have a natural quality. The animal's hair contains proteins, and the curvature of the mink eyelashes is formed by a chemical reaction of the proteins under the action of high temperatures. The bending of the chemical reaction is generally irreversible, so the curvature of the eyelashes can be maintained very well and will not be deformed even under the action of external forces. The raw material of chemical fiber eyelashes is plastic, so their curvature once formed is very fixed and extremely easy to deform under the action of external forces. They are very neat at the top, not particularly natural to wear, and some styles are even rather dull. If you have mink eyelashes around, you can experiment. Soak your eyelashes in water for a while and then take them out, dry them with paper towels or leave them for a while, you will find that their shape will not change after they are completely dry.
3.Long Reusable Time
Mink eyelashes are not only soft, light, comfortable and luxurious, they are also much more reusable than other materials. The band of mink eyelashes is made of special cotton thread and the glue is particularly sticky, so there is almost no hair loss. With good curvature retention, a pair of mink eyelashes can be reused 35-40 times if used properly. So while you may spend more money on mink lashes than on synthetic lashes, when you average out the number of reusable lashes, mink lashes are a better deal.
4.Difference From Other False Eyelashes
You may have learned by reading this that there are many differences between mink lashes and other materials used in synthetic lashes, but do you know how to tell the difference? There are many ways to distinguish mink eyelashes from other materials of synthetic eyelashes, through visual observation, rubbing, smelling, and burning. I've talked about the difference between mink lashes and synthetic lashes in previous blogs, so the most visual way to tell the difference is to look at them with the naked eye. Visually, mink eyelashes are the most natural, very fluffy, and closest to real hair. Synthetic lashes are duller and look very shiny. Secondly, you can test the mink lashes by rubbing them. Mink lashes will not deform or shed mink hair no matter how much you rub them. The superior quality of mink lashes is what makes them so popular. You can also tell mink lashes from synthetic lashes by smelling and burning them. Real mink hair burns like real hair. When it burns, the hair crumples and leaves ashes behind. You should be able to smell a very familiar smell, like the smell of burnt feathers, but also like the smell of burnt hair.
The main difference between lashes is how strong they are, whether they are real, artificial, or synthetic. Mink tends to be superior and more comfortable than all other lashes. The downside to mink is that they are usually more expensive than synthetic or silk lashes.