When it comes to eyelash extensions, it might be difficult to determine what you want. It's even more difficult to keep track of what's going on when getting your lashes done. In a typical consultation, you will most likely be asked a number of questions about your preferences. Or you have probably asked yourself the question, "what size should my volume lashes be?"
In order to help you decide, here's a guide to help you figure out how long or thick your volume lashes should be.
Eyelash Length – What Is It?
The length of your lashes is controlled by how much your natural lashes can fold, which is usually about 20% longer. It's up to you how long you go, but be aware of the consequences to your lashes.
A lash's length is largely determined by its natural growth; however, a lash that is too long may break or damage retention. Nevertheless, everyone loves length, so if you want long lashes, find a volume package with finer lashes.
Volume Lash Size Chart
The chart below can help you determine the optimum volume lash size for your eyes. Check this out!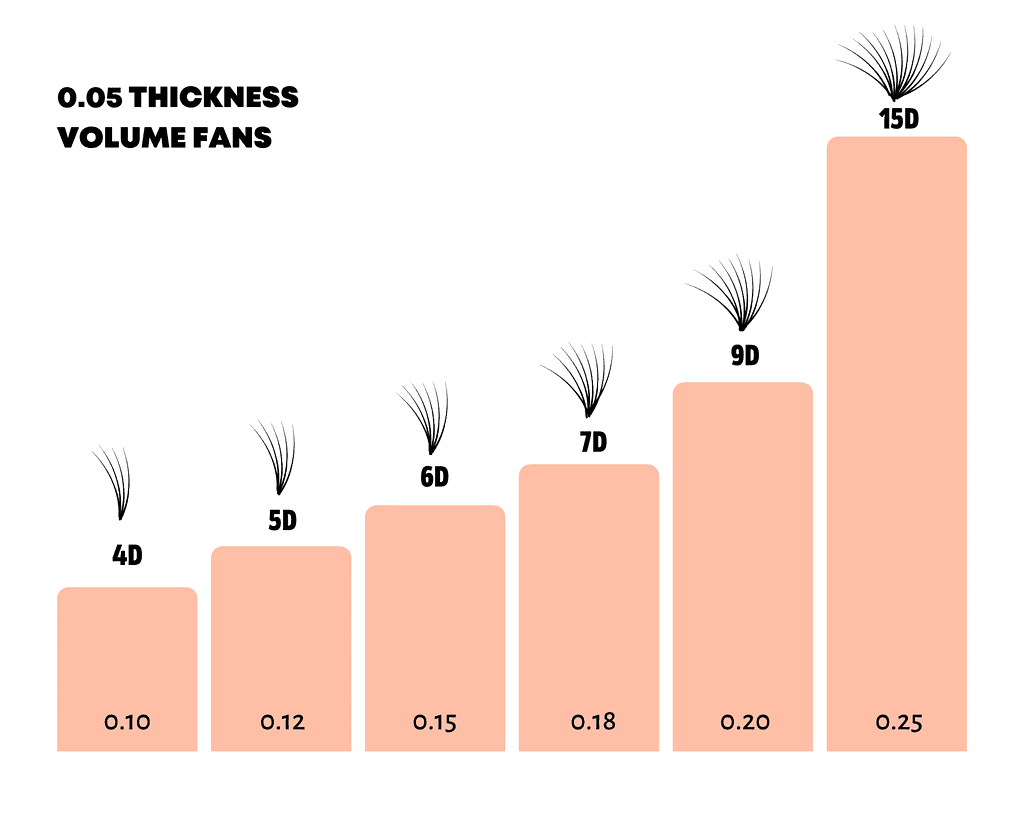 There are several diameters of eyelash extensions. A number of factors play a role in determining the diameter you should use, including the technique you use and the look you want to create. Take a look at how you can get your lashes ready!
| | |
| --- | --- |
| Size | Description |
| 0.03 | Makes great Mega Volume fans. Due to their thinness, you'll need more than one .03 to make a noticeable fan. |
| 0.05 | This is a nice middle-of-the-road diameter. It can hold up to eight eyelashes. |
| 0.06 – 0.07 | These are the most common diameters. Each fan can have as many as six eyelashes attached. |
| 0.10 | This is the thickest width for volume that you can utilize. You should not use more than three .10 lashes per natural lash. |
If your set seems dense or dramatic, use thicker eyelash extensions. With traditional lash diameters, you can only apply one lash extension to one natural lash.
| | |
| --- | --- |
| Size | Description |
| 0.12 | This can be applied over baby lashes that are found in a natural lash line to create a classic, natural look. |
| 015 | This is a good starting diameter for a new client. |
| 0.18 | If your client wants .15 and requests more, this is the ideal length. |
| 0.20 | This is the thickest extension, and it will give you the most dramatic look. This may be too heavy for someone without a strong natural lash and may cause damage to natural lashes. |
What Size Should My Volume Lashes Be?
Volume lashes require a great deal of knowledge and skill to select the right size. Take a look at these useful tips.
Choose the Right Diameter
As the extension's diameter gets larger, it will become heavier and thicker, thus affecting its durability. Make sure that whatever you put on your lashes is something that your natural lashes can handle.
Choose the Right Length
The most important thing you can do is to determine the correct length. Those with naturally long and thick lashes can wear longer, thicker lashes, while those with sparse natural lashes should wear shorter, thinner extensions.
Mix A Variety of Sizes
It's also worth experimenting with combining lashes of various sizes to create a set. This is known as a hybrid lash set, and it often includes both classic and volume lashes. These are typically more classic lashes than volume lashes, but they can be customized.
Using hybrid lashes in a variety of situations often requires professional hands. Still, these lashes are most commonly used for customers who desire texture and volume without the appearance of unnatural volume lashes.
When searching for a way to increase your lash game while remaining balanced, this is definitely something worth trying.
How to Choose the Right Length and Diameter of Volume Lashes
The idea is to match the natural diameter as closely as possible, but there are a few instances where you would want to go somewhat thicker. Ideally, the diameter should match the client's natural lashes.
The length of the lash extension comes next. It's all about EXTENDING those natural lashes. Then, figure out what kind of style they're looking for! A longer lash will appear wispy, while a shorter lash will appear fuller and darker.
How To Calculate Volume Lashes Size & Weight
Always take a close look at your natural lashes to determine what thickness is appropriate for you.
For Thin Natural Lash
It is suggested that you use lash extensions with a diameter of 0.10mm. This is the maximum fan volume that should be used.
1 of 0.10mm = 2D fan of 0.07mm = 4D fan of 0.05mm = 10D fan of 0.03mm.
For Healthy Natural Lash
Clients whose natural lashes can withstand the weight of 0.15mm for conventional extensions should use this fan thickness and diameter.
1 of 0.15mm = 4-5D fan of 0.07mm = 8D fan of 0.05mm = 19D fan of 0.03mm.
For Thick and Strong Natural Lashes
For conventional extensions, some clients may benefit from 0.20mm. For volume fans, this is the recommended thickness and length.
1 lash of 0.20mm = 3D fan of 0.10mm = 8D fan of 0.07mm = 17D fan of 0.05mm = 20D+ fan of 0.03mm.
Takeaways
Eyelash extensions can add extra glitz to your overall look if you choose them carefully and apply them appropriately. This entails determining the proper lash length and width and the appropriate eyelash extension size and weight.
With this guide, choosing the size of your volume lashes is as simple as 123. If you need more information about the other types of eyelashes, click here.
And if you're looking for more varieties of eyelashes, make sure to check our homepage at Lash Factory China.