If you are one of the beauty enthusiasts looking to make a statement with your lashes, go wispy. Wispy lashes have been in the market for some time, perfect for dramatic look lovers.
Wispy lashes offer the wearer a fluffy, feathery, and natural look. You can choose to have wispy strip lashes or wispy eyelash extensions.
What does wispy mean in lashes? Wispy is a lash technique that results in a feathery look in eyelashes. Achieve a wispy look by combining individual lashes or fans with eyelash extension fans of different curls and lengths.
The hand-made lash fans contain 2-6 lashes per base. They are applied in alternating lengths on the client's natural lash. The result is an appearance of false strip lashes.
Wispy eyelash extensions offer long-lasting effects. This is in comparison to wispy strip lashes which are one-time use.
You may also use mascara to achieve a wispy look in your lashes. To find out how, plus more about wispy lashes, keep reading!
What Are Wispy Lashes?
Wispy lashes are a relatively new lash technique. The style came third to classic and Russian/volume lashes.
Wispy lashes are best described as lashing freestyle. This is because it combines different lash types, shapes, and techniques.
Lash technicians use different lengths or curls along the lash line. The lash sizes may gradually rise and fall depending on the desired outcome. The result is a feathery and spikey appearance.
Mapping the different lengths of the lash line can be a challenge. How do you achieve balance for an even look? Keep reading to find out!
How To Apply Wispy Lashes: Eyelash Extension Mapping
Mastering the art of eyelash extension mapping is the key to a successful wispy look. It helps you to plan on which lash goes where for an even looking outcome.
The Eyelash mapping process enables you to confirm the positioning for the different lengths. Lash mapping is unique to every client, given the different types of eyelashes.
Some clients may have wide gaps between their natural lashes. The gaps may need filling with volume fans.
Professional lash artist analyzes the client's lashes before mapping. This helps them to identify the unique needs of the clients.
Step 1: Identify The High Points
Eyelash artists start by identifying where to place spikes known as high points.
Spikes are made from closed fans for wispy volume lashes. Wispy classic lashes contain individual lashes.
Eyelash technicians apply two individual lashes or closed fans at close range using a lash adhesive. If a client loses one extension, the remaining extension remains to fill the gap.
On average, there are about 7-10 spikes on each eye. Individual lashes range between 10-20mm in length. The thickness is about 0.07 mm.
The best curl partners to use for the spikes are C, CC, or D. You may choose to mix the curls or stick to one type of curl.
Spikes will help you to visualize the final look even before you apply the wispy extensions.
Use different lengths in all the spike points. The highest point is either in the middle or at the outer corner of the eye. Avoid applying spikes at the inner corner of the eye to avoid unwanted results.
The most preferred method is using longer spike lengths in the middle. The lengths should descend towards the outer corner of the eyes.
Step 2: Filling Stage
Only proceed to the filling stage after placing all the spikes in position. This process involves deciding which lengths go in between the spikes.
Add a layer of 2-6D fans in between the spikes to fill the gaps using a lash adhesive. Use lengths that are 1-2mm shorter than the spike lashes used at the high points.
Step 3: A Finished Look
Filling the gaps with volume fans is the last step. Let the client take a look at the results in a mirror. Amend any error that the client may need to be fixed.
You may need up to 10-20 clients for you to get used to the wispy eyelash extension application. Don't beat yourself up if you're a slow learner.
Secret Eyelash Mapping Tips
You can draw lines indicating the different lengths you intend to use on a client.
Cushion The client with hydrogel eye-pads beneath the lashes.
Draw the lines on the hydrogel eye pads. This helps to avoid applying too much pressure on the client when drawing.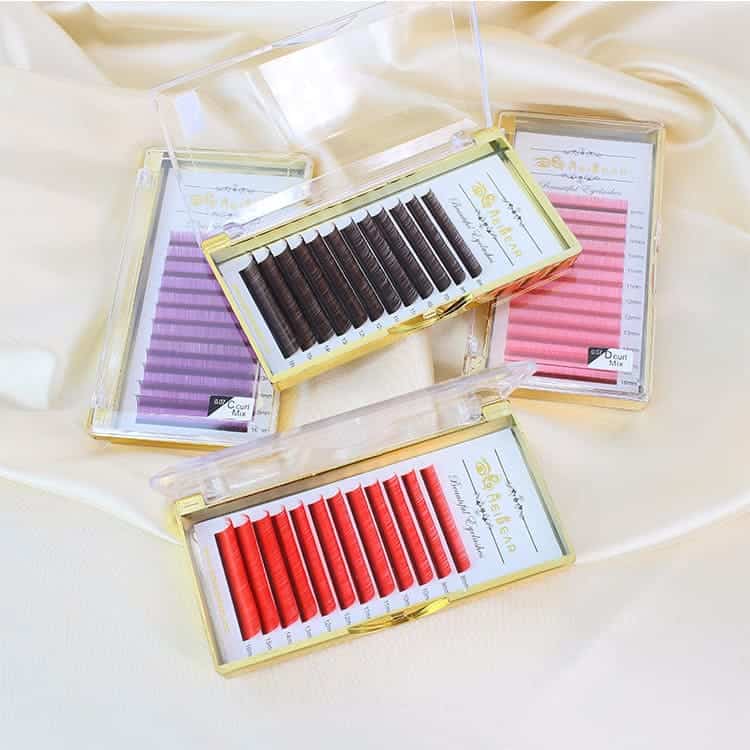 There are different types of wispy eyelash extensions based on what the client wants. The different types of wispy lashes include:
Wispy classic eyelashes
Wispy volume eyelashes
Wispy hybrid eyelashes
Wispy Classic Eyelashes
Wispy classic lashes combine individual eyelash extensions containing g different lengths. They offer the client a more noticeable classic lash look.
Wispy Volume Eyelashes
The wispy volume lashes combine different fans. The lashes range between 2-6 lash extensions to add density and volume. Technicians use closed fans to create spikes between the lash fans.
Wispy Hybrid Eyelash Extensions
Hybrid lash extensions are a combination of wispy classic and wispy volume lashes. Lash artists use individual lash extensions to create spikes. For the gaps, lash artists use volume lash fans.
Types Of Wispy Lash Mapping
Different wispy lash styles require different mapping methods. They include;
Kim K wispy lashes
Doll effect wispy lashes
Squirrel effect wispy lashes
Wispy cat-eye lash extension
Kim K Wispy Lashes
The lashes got their name from the celebrity Kim Kardashian. They are the most popular wispy lashes in the market.
Lash artists use 10mm long lash fans at the outer corners of the eyes. They apply 11mm long fans in the middle of the eye.
The inner corner of the eye contains lash fans of 7, 8, and 9mm in length. The spikes of the Kim K wispy lashes are 1-2mm longer than the fans.
Doll Effect Wispy Lashes
The purpose of the doll effect wispy lashes is to give clients are more pronounced doll-eye look. Lash artists place longer lashes in the middle.
The lash artists follow up with descending lash lengths towards the eye corners.
Squirrel Effect Wispy Lashes
The squirrel effect wispy lashes are best for clients with round eyes. Lash artists use longer lashes near the outer corner of each eye.
The professional wispy lash artists use shorter lashes at the extreme eye corner.
Wispy Cat-Eye Lash Extensions
The result is to achieve a cat-eye look. Lash artists use longer lashes at the outer corner of the eyes. The artists use shorter lashes in descending order towards the inner corner of the eyes.
How To Achieve Wispy Lashes Using Mascara
As mentioned earlier, you can achieve a wispy lash look with only a set of mascara. No need to visit the lash parlour, all you need is confidence in your at-home application.
1. Remove Excess Eye Make-Up
Mascara is sensitive to leftover make-up. Ensure that your lashes are clean with no excess make-up before applying mascara.
Use a clean cotton pad and micellar water to wipe out make-up and dirt from your eyes.
2. Curl Your Natural Lashes
Pick up your eyelash curlerto give your natural lashes a curl boost. Clamp the eyelash curler at the bottom, at the middle, and the tips of your natural lashes.
Roll the curler outwards to achieve a full curl.
3. Prime Your Natural Lashes
A lash primer is a good product for adding the extra length needed in wispy lashes.
Apply a coat of Meidear Lash Factory primer on your natural lashes.
Pick a clean spoolie and roll it through your natural lashes.
The above step helps to separate entangled lashes and prepare them for mascara.
4. Apply Your Mascara
Pick your lengthening mascara. Wispy lashes are more about length than volume.
Brush your eyelashes with the mascara wand to add intense length to your natural lashes. Apply a few mascara coats on your lashes, both at the top and at the bottom.
5. Perfect Your Final Look
Perfect lashes require attention to detail. Pick a clean spoolie and roll it through your lashes to remove any extra mascara.
Use a pair of tweezers to separate areas of your lashes that you may be sticking together. Ensure each lash is separate for an excellent featherlike final appearance.
You may choose to apply eyeliner on the upper lash line. Smudge the eyeliner with an eyeshadow brush to achieve a softer look.
Where To Purchase Wispy Lash Products
Meidear Lash Factory China is your number vendor of all the wispy lash extension products. Here are all the products you may need;
Individual eyelash extensions
Pre-made fan lashes
Mascara
Tweezers
Eyelash spoolie
Mascara wand
Hydrogel eye-pads
We provide the above eyelash products in bulks at factory prices. This means that our products are pocket-friendly.
Stock up your lash business with the best quality eyelash products from Meidear Lash Factory China. We guarantee you a perfect wispy lash look on your clients.
Final Thoughts
Wispy lashes is an eyelash extension application technique best for dramatic lash lovers. You may choose to go with the classic, volume, or hybrid wispy lashes.
Read through the article for a deeper understanding of wispy lashes. Remember to go to a professional wispy lash artist to achieve a perfect wispy lash look.