If you are planning to start your own lash business, one product will attach everyone to your store – 25mm mink lashes. These lashes have the right size that elevates all makeup looks, superior quality and durability, and a super soft texture. Hence, you will need to buy wholesale 25mm mink lashes for your business.
Now you might be wondering, what does 25mm mink lash wholesale mean? 25mm stands for the length of the lashes. You may find several vendors selling these lashes wholesale.
Keep reading to find out what precisely 25mm mink lashes are, why they are so popular, and how you can buy them wholesale. fluffy 25mm lashes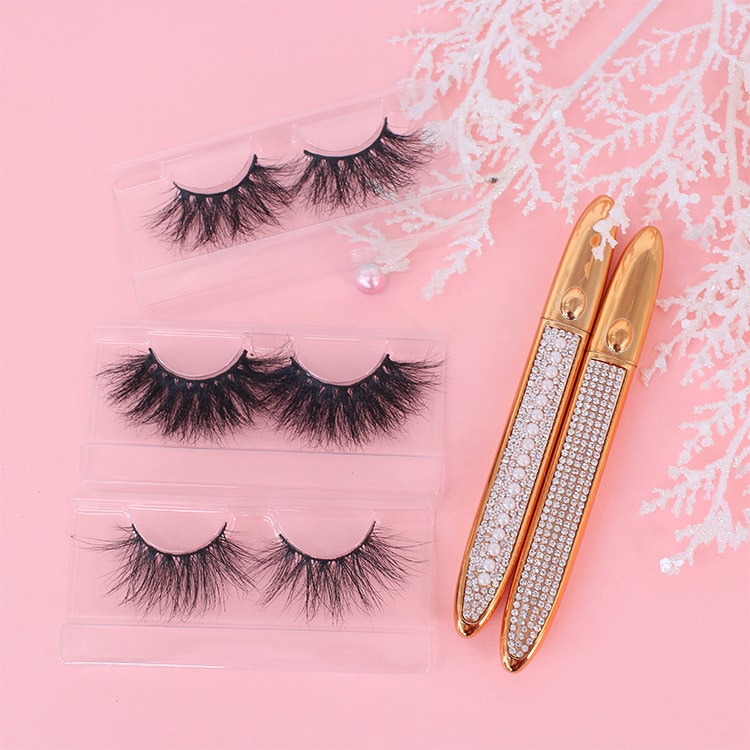 What Are 25mm Mink Lashes?
Mink lashes are natural lashes that consist of hair from mink fur. There is a long list of reasons why people are beginning to choose mink lashes over artificial ones.
Firstly, mink lashes are much more fluffy and lightweight than artificial lashes. They are obtained by lightly brushing minks' fur to bring strands that are then sanitized.
Mink lashes are much more delicate and curl more quickly than other types of lashes. It gives them a neutral and indistinguishable look. Additionally, as mink lashes do not consist of synthetic materials, they are much more durable and better in quality.
So, not only are these lashes convenient, but they will also last for a long time. Overall, mink lashes are a simple way to make any makeup look or your natural features pop out.
You might still be wondering what '25mm' stands for. 25 millimeters is simply the length of these mink lashes. You can choose to get mink lashes in any other length if you wish. 3d mink 25mm lashes
However, you might want to opt for 25mm as it is the most popular mink lash length. It is because 25mm is the perfect mink lash length to give your natural lashes a boost. 25mm mink lashes will give your eyes a fuller and fluffier look without seeming fake. 25mm wispy lashes
Just think of your favorite makeup look, but with bouncy and denser natural lashes – that's what 25mm mink lashes will do. Even if you are hesitant to try longer lash lengths, the delicate texture and natural curve of mink lashes are simply irresistible!
Where Can I Find 25mm Mink Lashes Wholesale?
Finally, the question is – where can you find these durable, lightweight, and superior quality 25mm mink lashes wholesale? The answer is much closer than you think.
But before you look for 25mm mink lashes wholesale, you should know what you are looking for. Here are some features that you must specify in your wholesale order:
The curl type you want
The color(s) of the lashes
Natural use vs. 3D/5D/8D
You can find mink lashes in a wide variety of colors – black, brown, blue, pink, green, just about any color that you can imagine. Additionally, the type of curl and volume of your 25mm mink lashes determine how natural (or glamorous!) they will look. 25mm mink eyelashes
Moreover, you also need to mention the quantity of 25mm mink lashes you want. You can already find many wholesale lash distributors that sell packs of 5, 10, 20, 30, etc. 25mm mink lashes. You can either choose to go with these or place a custom order.
Before buying from a wholesale eyelashes mink 25mm mink lashes seller, make sure to check whether their products are sourced ethically and pass the quality standards. You can find several 25mm mink lashes wholesale sellers on e-commerce sites like Amazon.
Getting these 25mm mink lashes from another state or country is no longer a hassle with the shipping facilities that these e-commerce sites provide. You might even be able to find better quality products than you would otherwise.
For instance, Meidear Eyelash is a wholesale brand that offers high-quality mink eyelashes. You can order 25mm mink eyelashes in bulk by using the contact details on the lash factory china website. It's a straightforward process and won't take long.
If you are skeptical about placing your trust in a product you haven't tried before, you can always ask for a sample before making your purchase. Of course, you can also find a local wholesale lash supplier in your area for a hassle-free yet magical experience. wispy 25mm mink lashes
Final Thoughts
Now that you know all about 25mm mink lashes wholesale, your lash business is ready to skyrocket. All you need to do is get your hands on some of these lashes, and you'll have customers wanting to buy them in no time! 25mm individual mink lashes