Starting a new business is often difficult but feasible. Beauty products are one of the most popular businesses around the world. Who doesn't like the beauty? I suppose everyone likes it. Just open your social media and have a look at the celebrities. They are looking gorgeous, right?
Can you crack the code behind their beauty? Obviously, yes. Because they are using makeup tricks. When you glance at their eyes, don't you think they are using eyelashes? Dark-colored and glamorous eyes enhance the overall beauty. Now, imagine the use of eyelashes in makeup. This is where you can start your eyelash business.
Today, we will discuss the 25mm lashes and highlight what should you look into them.
What are 25mm Lashes?
Do you know the length measurement parameters? Usually, we use meters to measure length. In the case of lashes, because the length is very much less. So, we use a small unit "millimeters."
Can you define 25mm lashes? I suppose yes. 25mm lashes have 25 millimeters in length. Natural lashes have a length of 12-17 millimeters. That's why they are longer than natural lashes and offer a wide variety of styles for better beauty options.
Why choose MeiDear lash factory 25mm mink lashes?
Have questions in mind? Like where should you purchase the 25mm mink lashes? Why worry when I can help you. Choose MeiDear lash factory! Here is why:
· We can offer you multiple styles of 25mm lashes
Starting a new business? Lash styles matter a lot. Every time consumers visit your store, they might need something special. Providing them with what they need is always helpful to urge them to come next time.
Who wants to lose the potential customers? I suppose no one would like to do especially in the early phase of business. You can get access to multiple lash styles and keep them in your store. Custom 25mm lashes are going to be a huge benefit for your business.
· You can order custom packages for your lashes
For keeping your lashes safe, you need what? A package also called covering, right? The package can come in different styles and shapes. Our team makes sure you let us know your desired style of package. As per requirements, we offer custom package design. Great, right?
· Easy access to the wholesale rate
One of the most important aspects of the lashes business is their cost. Every new business needs quick development. Sometimes, the owner is deficient in budget. Is there a solution to this problem? Yes, go for the cost-effective inventory with affordable prices. This is what MeiDear Lash Factory China can provide you. Get the products at wholesale rates.
· Available whenever you need us
We are available 24/7. Hit us a call whenever you need us. Even if a design comes to your mind later at night, we can offer you services instantly. Just hit us a message and let us know your thoughts on the design.
How to buy 25mm mink lashes?
Beginner to lashes business? If yes, you might have many questions in mind. What should you look for in the mink lashes?
· Choose the lash style
There are several lashes styles out there. For example, if you want to make your eyes appear larger and glamourous, try open eyelashes style. Similarly, you can learn more about other styles from our products.
Always choose the lash style you want for your store. Every lashes style has a unique design and enhances the beauty differently. That's why when you are buying the lashes product, be unique in lashes style. Choose the one you like the most!
· Choose the package style
Where do you keep your lashes? Maybe in a safety box, right? That box is your lashes packages. At the cosmetic store, why do you go? To purchase some beauty products, right? So, focus on the word, "beauty." If I talk about the lashes package, they are no longer lagging in stunning shapes.
Thus, before landing on any cosmetic factory, make sure you have the design in mind. If not, no worries. You can visit our custom package designs and let us which one you like.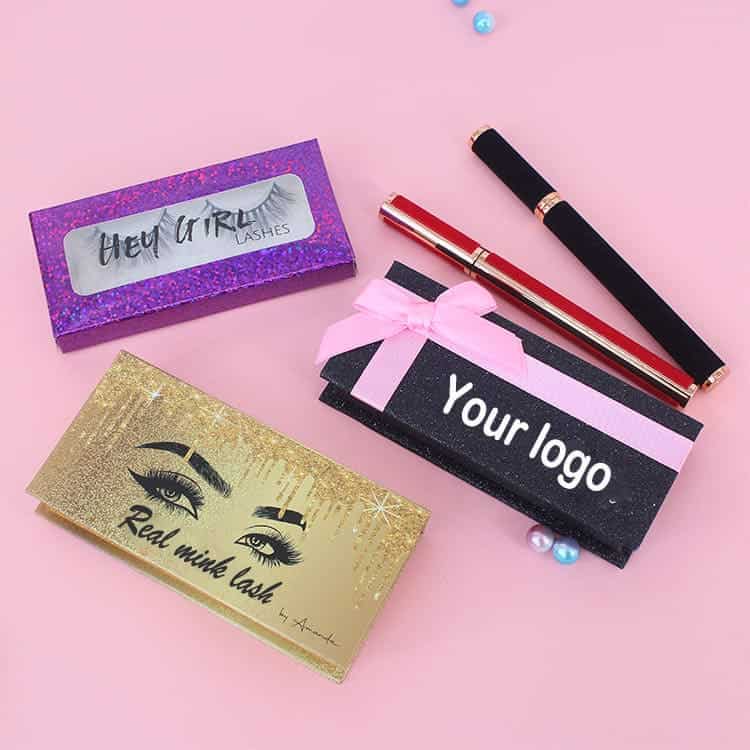 · Custom package with private label
A newly developed business requires a private label. In simple words, it is a logo to represent your brand. On every product, you have to attach that logo and represent your brand. Whenever new people will have a first look at the product, they will know about your brand.
More exposure to your business, right? This is what every new business wants in the early phase of development. Before ordering custom packages from any lashes factory, ask them about private labels. If they allow, choose them. In our factory, we ask for the logo and create the template. Once you approve it or suggest changes, we implement it. Smooth process!