Soon after eyelash extensions became popular, hybrid lashes emerged into the lash industry. This led to curiosity in many women. Are you also curious about what hybrid eyelash extensions are?
Well, we have a complete guide ready for you to explain all things the right way. Later in the article, we will also compare hybrid eyelash extensions with classic and volume lashes.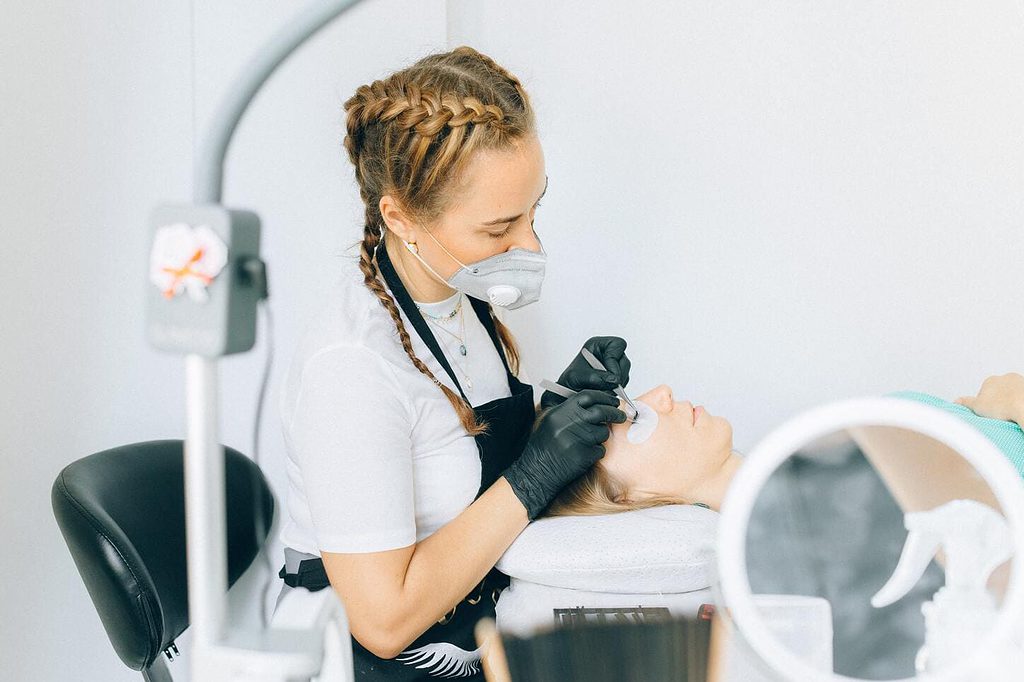 What Are Hybrid Lash Extensions?
We already know that eyelash extensions are of three types:
Classic lash extensions
Volume lash extensions
Hybrid lash extensions
Classic and volume lashes are nearly the opposite of each other. It's because classic lashes are light to blend with your lashes to give a natural look.
On the other hand, volume lashes give a dramatic look due to their precise curls and voluminous look on the eyes.
However, when we combine both the classic and volume lash extensions, the result is hybrid eyelash extensions.
These lash extensions have immediately become the talk of the town. They give a perfectly natural and subtle look without taking you towards the dramatic style.
Thus, hybrid lash extensions contain 70% volume lashes and 30% classic lashes. These lashes intend to give a wispy look. They combine the best bits of both types and ensure the right length and volume.
Why Should You Go For Hybrid Lash Extensions?
Admit it or not, hybrid lashes have become an emerging trend now.
We know that eyelash extensions are semi-permanent because they last for up to 8 weeks. Also, we cannot take them off at the end of the day like strip lashes.
If you go for classic lashes, you'll have a natural look, which is perfect for going to work every day.
But, if you choose volume lashes, you will get an extra dramatic kind of look. It is only suitable for weddings and other events.
So, what's the alternative to classic and volume lashes that can be perfect for both office and events?
The answer is hybrid eyelash extensions. The extensions of mixed lengths and curls give a soft and wispy look. Also, you can attend parties and meetings without any problem!
Hybrid vs. Classic Lashes
Classic lashes tend to be towards the natural look. They are ideal for women with thin and short lashes.
The process takes around 2 hours and involves attaching one extension to one natural lash. The result is long and natural-looking lash extensions.
Although hybrid lash extensions also consist of classic lashes, their results are different. Classic lashes only provide an enhanced length. But, hybrid lashes also give volume without giving an unnatural look.
Hybrid vs. Volume Lashes
Volume lash extensions are much different from classic and hybrid lash extensions.
It is because we apply many volume lash extensions to one natural lash in the form of volume fans. Also, each fan has lashes anywhere between 2 to 16 on each fan. The volume fans are less thicker compared to classic lash extensions.
It is only to provide a voluminous look to the natural lashes. Due to so much volume, the volume lash extensions give a dramatic look. In this way, you can easily tell if someone has got volume lashes.
However, hybrid lashes are much different from volume lashes because they don't go towards the dramatic look.
They combine the best bits of both volume and classic lashes to give a neutral look. Thus, they neither look too boring nor too dramatic.
So, if you want volume on your lashes but don't want an extra dramatic or full volume look, hybrid lashes are the ideal choice for you.
Final Words
Hybrid eyelash extensions offer a voluminous and wispy look to your natural lashes. They combine volume and classic lashes in a 70-30 combination.
Hybrid lashes are ideal for all eye shapes. The lash technicians place them strategically on the eyes.
Thus, if you don't want an extra dramatic look but want the style and volume of volume lashes, hybrid lashes are for you!
If anything you need, contact us by WhatsApp: 008613176398069. contact us by email: sale@meideareyelash.com.