The mink lashes kit includes a range of items to be used when wearing eyelashes. Whether you use it for your normal wear or to prepare for your own eyelash business, it all plays a crucial role. In the following article, I will talk about the products included in the Mink Lashes Kit.
If you want to wear false eyelashes, then eyelash glue is a necessity. But there are several types of eyelash glue, do you know anything about them? Now I will introduce them to you in detail. The most common type of eyelash glue is the ordinary cylindrical shape, and the glue comes in three colors, white, black and clear. The white glue will also become transparent after drying, so do not worry. If you are wearing a natural style of eyelashes under 16mm, it is recommended that you use white or clear glue because then the glue is invisible and the makeup will feel very natural. If you are very skilled in makeup, you can also choose to use black glue. The most important thing is to choose the right one for you. All glue bottles are available to print logos and accept customization. The custom lash glue wholesale logo on the bottle can either be printed, logo stickers can also be applied. You can choose according to your preference. In addition to the color of the glue to choose from, the cap of the glue bottle is also available in many different colors. Available in golden yellow, pale yellow, and rose gold. If you want your glue to be more design-oriented, you can also choose a bottle with diamonds. It already looks very pretty normally, and it will look even more sparkly in the light. The only drawback is that the bottle is covered with diamonds, so there is no way to print the eyelash glue logo or put logo stickers. It is worth mentioning that the skin above the eyes is very delicate and sensitive. So be sure to choose the glue with the highest safety factor. Be sure not to add harmful chemicals to the glue. When buying be sure to ask your supplier if the glue they provide contains latex.
If you have a high demand for daily makeup and want to complete your eyeliner while wearing false eyelashes, then eyeliner glue pen wholesale must be your best choice! There is no difference between eyeliner glue and eyeliner liquid, except that eyeliner glue is sticky. And you do not need to worry at all that it is not as sticky as ordinary glue, we have specifically tested. Whether it is its stickiness or waterproof, it is perfectly fine. As for the choice of styles, there is also a wide range. There are round and flat shapes. Available in different patterns and colors. There are covered with diamonds, frosted and velvet, etc. If the surface is smooth, custom printing of your lash glue liner wholesale logo and brand name is also accepted. And the most special point is that when this eyeliner glue pen opens not only a pungent smell, there is a faint fragrance.
Before I introduce the eyelash tweezers, I would like to ask you a question. Are you guys used to using your hands or tweezers when wearing false eyelashes? Eyelash tweezers are an auxiliary tool for wearing false eyelashes. If you simply wear your lashes by hand, they may not be as compact when wearing false lashes because of the uneven hand pressure and the fact that your fingers are thicker than tweezers. At this point, it is particularly important to choose the right tweezers for you according to your usage habits. There are three types of tweezers commonly used when wearing false eyelashes: T-shaped tweezers, flat-tipped eyelash curlers, and pointed tweezers. When you purchase you can choose according to your daily habits. If you have no experience in using tweezers, you can also purchase separate samples of different shapes of tweezers for testing. And the middle and tail of the tweezers also accept customization and can be printed with your logo and brand name.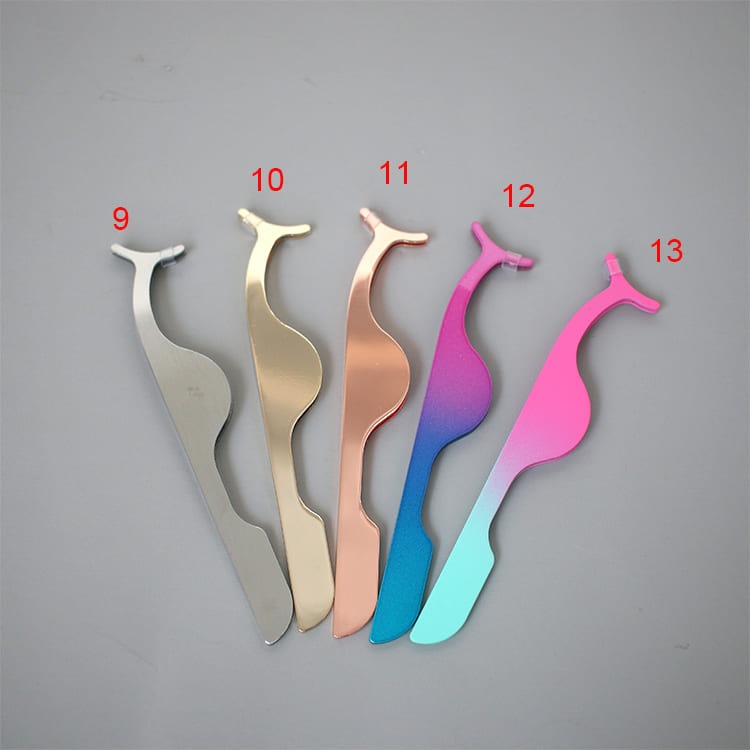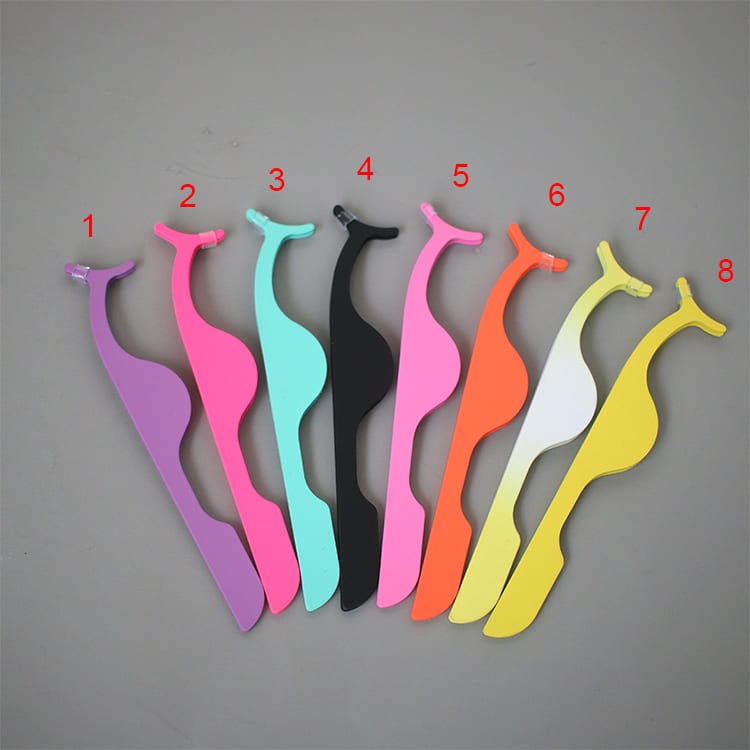 Eyelash curler is a makeup tool that bends and curls the eyelashes to make mascara-applied eyelashes look long and curved, with the curved shape of the curl matching the shape of the eyelid. No one should overlook the importance of an eyelash curler. The correct use of eyelash curlers is sometimes more important than false eyelashes. The eyelash curlers work in much the same way, the only difference being the shape and color. However, just to be sure, I would recommend that you buy samples to test before buying in bulk. Since the space available for eyelash curlers is very small, there is no place to print the logo. But we can customize the custom packaging of the eyelash curler.
If you want to expand your eyelash business, wholesale matching mink eyelash sets are perfect. Not only can you enrich your eyelash business variety, but you can also give your customers more choices.