Are you planning to start your own business for lashes and eyelash extensions? Well, the most crucial step is to find the best lash vendor. After all, there are several eyelash businesses, and if you want to stand out, you need to offer high-quality services.
So, how to find a lash vendor? You can find a lash vendor through several means such as Google, social media sites like Instagram and Facebook, and even via exhibitions and huge expos.
In this guide, we have covered several ways to find an eyelash vendor in detail. Read on to know more about them.
How do I find an eyelash vendor?
Due to the presence of the Internet, finding a suitable top lash vendor for your business has become extremely easy. There are various means to try out, including:
Method 1: Search For Eyelash Vendors On Google
Google is the storehouse of information. You can search for whatever you want, and you will get it. The same goes for an eyelash vendor.
Now, there are three ways to search on Google:
Given below is how text search works for finding a lash vendor:
In the text search, type out the keyword 'eyelash vendor' on Google.
Then, you will get several whole eyelash suppliers and manufactures to choose from. Then, you can check out any of the eyelash vendors you want as per your needs.
Before you pick a lash vendor and want to see the different falsies and extensions they sell, you can try the image search. Here's how:
Go to Google. Then, select the 'Images' option given at the top-right corner.
In Google Images, search for 'eyelash vendor.' You will also get several suggested options like 'eyelash vendors wholesale' or 'eyelash vendors near me.' Choose the one as per your requirements.
Finally, when you search, you will get many images. Then, you need to click on 'Visit' to check out the eyelash vendor's website.
If you're looking for lash vendors near me, you can Google Map Search is the best option. It will allow you to find the lash vendors nearest to your location if you want urgent and quick delivery.
Here's how you can do a Google Map search:
First, go to Google Maps.
Then, search for 'eyelash vendors' or 'eyelash vendors near me.' You'll have several options to choose from!
So, in this way, you can find the best eyelash vendors by searching on Google!
Method 2: Search For Eyelash Vendors On Social Media
There are certain benefits of searching for lash wholesale vendors near me on social media over Google. It's because the social media pages of the vendors speak a lot about their products and quality. Also, you can go through their posts and comments to know whether the lash vendor is authentic or not.
Let's see the various social media platforms on which you can search for eyelash vendors.
With over two billion users, Instagram has become the newest marketplace. You will find several vendors here, including eyelash vendors. All you need to do is search for lash vendors on Instagram. Here's how:
Go to the Instagram website or app.
Then, in the search box, search for 'eyelash vendors.'
Once you do, you will find the accounts of various eyelash vendors. Or, you can even try out searching using hashtags like #eyelashvendors.
Finally, click and visit the account that you like.
You can browse through the posts (pictures) uploaded by the lash vendors on Instagram accounts to understand their products better. Most of them even have contact information in their bio.
Facebook is another excellent platform to search from a variety of lash vendors. Moreover, it's easy to use and accessible too. Here's how you can search:
First, go to the Facebook website or app.
In the search bar, type 'eyelash vendor' or similar.
Then, you will find plenty of eyelash vendor pages and posts.
Finally, all you need to do is visit the eyelash vendor on Facebook pages that meet your requirements and contact them!
Many people often consider LinkedIn as a platform for jobs only. But, did you know that there are many vendors and brands listed on Linkedin too? It allows you to search for extension vendors here too. Here's how:
Go to the LinkedIn app or website.
Then, search for 'lash vendors' in the search box. Note that to filter out employees; it's best to choose the 'companies' option here. Moreover, you can add other filters, too, like the location.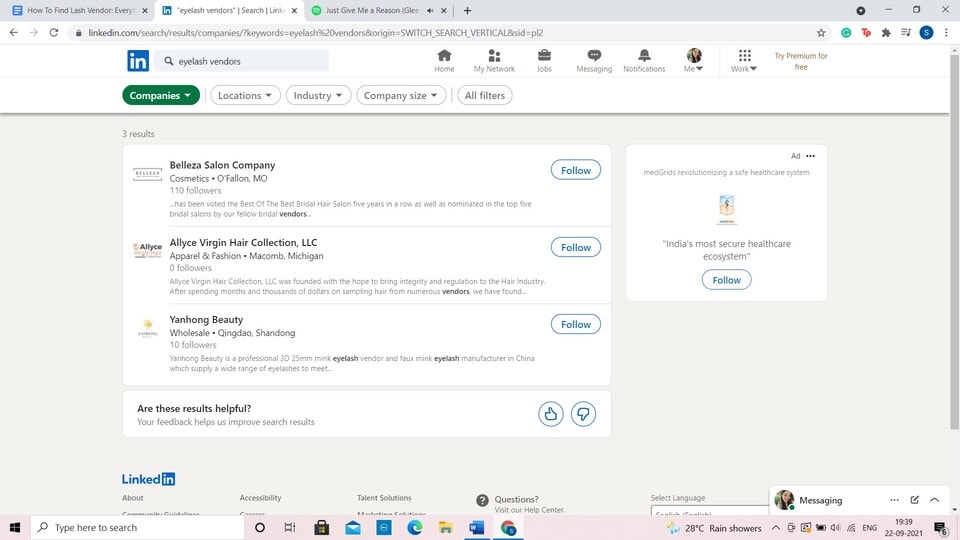 Then, go through the various eyelash companies and contact the one you like.
The company's profile will have details, including their contact details and official website too.
Just like Facebook and Instagram, you can consider using Twitter as a medium to find lash vendors too! The process remains the same as you need to follow these steps:
First, visit the Twitter website or app.
Then, search for 'eyelash vendors' in the search area.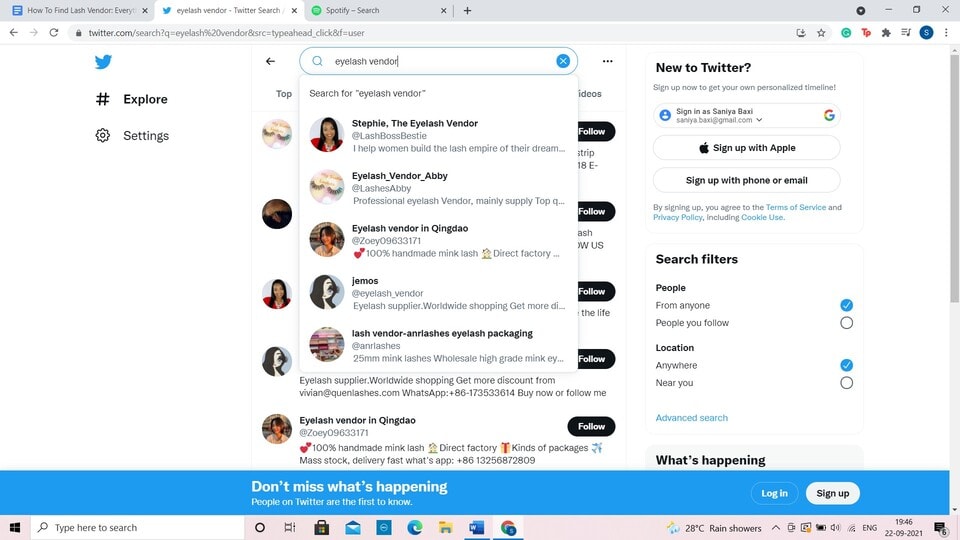 You can even search for terms like 'eyelash wholesale near me' or 'eyelash vendors wholesale' accordingly.
Pinterest is the ultimate social media site for beauty lovers. If you are a Pinterest user, you may already know that many companies, including eyelash sellers, promote their products here.
If not, well, now is the time to utilize Pinterest to search for extension vendors.
Go to Pinterest and search for 'eyelash vendors.'
After searching, you will find several posts and images by lash companies.
Select whichever image you like and click on it.
Once you do, you can find the link to the best lash suppliers' website.
In this way, even Pinterest can help you find the right eyelash vendor for you!
If you don't like researching a lot, you could go to YouTube and search for eyelash vendors.
Some many influencers and YouTubers upload videos of the best eyelash sellers too! This option is best for those who want a quick overview of the suitable eyelash vendors.
Now, here's what you need to do:
Go to YouTube and search for 'eyelash vendors' or even, 'eyelash vendors wholesale.'
Then, you will find several channels and YouTubers talking about eyelash vendors. You can watch any!
So, it's pretty easy to find an eyelash vendor on social media by the above methods.
Method 3: Find Eyelash Vendors Via Exhibitions
Nothing can beat actual human contact. So, if you don't want to choose an eyelash vendor or lash wholesale supplier online, you should attend trade shows and exhibitions.
Trade shows and expos bring in a huge number of lash manufacturers and suppliers, ready to sell their products, from all over the world. But, if you're confused about how to find eyelash exhibitions, here's what you need to do:
Search for any relevant trade shows or exhibitions around you. For example, you can search 'trade shows and exhibitions near me.' Or, check on websites like eventsinamerica.com or exhibitions.co.uk for the list of lash exhibitions.
Then, note down the date and venue of whichever eyelash trade exhibition suits your purpose.
Sometimes, you may have to register for an exhibition or trade show online. Ensure that you do it without fail.
Once you're registered, you can visit the exhibition and find various lash vendors there. To make things easier, try checking out their sample products and asking about the manufacturing/shipping details for an easy dealership.
Method 4: Collect The Lash Vendors Information and Make a Form
If you have collected a lot of information about several eyelash suppliers, it's best to note them down somewhere. We suggest creating a form having various fields such as:
Name of lash vendors
Lash Vendor's Contact details
Types of eyelash styles available
Eyelash Packaging styles and details
Their best rates and any applicable discounts
Approximate delivery dates
Once you have the details mentioned above recorded properly, you can go over them. Then, find the lash vendor that is best for you.
What Is A Good Eyelash Vendor?
What are you supposed to do when you have the list of all lash vendors? How should you decide which one is right for your requirements? In this case, there are certain things you need to expect from a best lash vendor.
The best wholesale lash vendors will provide:
1. Various Eyelash Styles
The trends are continually changing these days. So, it suffices to say that you need to order various eyelash styles to not run out of business.
Due to this reason, ensure that the eyelash vendors list you choose offers a variety of eyelash styles like mink, faux mink, strip, and synthetic lashes too.
2. Provide Multiple Types of Custom Eyelash Boxes
Whenever you're selling your products to consumers, you need to ensure that the different lash packaging is proper and customized. After all, the unique eyelash packaging can prove that your products are new and of high quality. Moreover, it can also help in increasing brand awareness.
Hence, before picking a lash vendor, always ensure that they offer a wide range of custom eyelash boxes. This way, you can choose the one that suits your eyelash brand style!
3. Competitive Eyelash Manufacturer Product Prices
If you're starting an eyelash business, it's imperative to find a lash vendor offering competitive product prices. It's because there are plenty of sellers offering lashes at an extremely high rate. Unfortunately, this can decrease your profit margin significantly.
But, a good lash vendor will offer competitive market rates, along with high-quality lashes.
4. Stable Eyelash Delivery Time
Some lash vendors may offer several eyelash styles and affordable prices but not a stable delivery time. Now, this delay could lead to losing clients and customers.
So, an ideal lash supplier will take care of production and give an estimated delivery date too. Additionally, they will ensure that you get the products on time.
5. Efficient Eyelash After-Sales Service
If your lash vendor is from another country, there's a possibility of confusion. For instance, you may receive fewer products or, in the worst cases, destroyed ones.
In such a case, an ideal eyelash supplier will offer good after-sales service. In addition, they'll try to get in touch with you regarding any complaints and won't forget to address them either.
So, if your lash vendor has the above qualities, you have found the right one!
Why Is Meidear Eyelash A Good Eyelash Vendor?
There are times when you don't want to search a lot for a lash vendor. And well, if you don't have so much time to research, then Meidear Eyelash is an excellent eyelash vendor.
There are several reasons why you should consider them as a great supplier, such as:
1. Proper Experience In Lash-Making Industry
With over 20 years of experience, Meidear Eyelash wholesale high-quality false lashes and extensions. The skilled workers ensure that each eyelash piece is created with extreme precision and accuracy. Thus, helping you keep your customers happy!
2. Various Eyelash Products and Services
There are rarely any good lash vendors offering the number of services and products that Meidear Eyelash offers.
You can find different false lashes here, such as minx lashes, faux mink lashes, silk lashes, and their 3D variations. Additionally, they also offer custom packaging to improve your brand's image.
3. Efficient Customer Support and Quick Delivery
Meidear Eyelash offers excellent communication and customer support. So, you can consider contacting them through options like Whatsapp, Email, or Skype too. It will help you discuss the order details easily.
Once you place the order, you can rely on Meidear Eyelash to deliver it immediately if the stock is ready. If not, they will give you an estimated delivery period to plan out your strategy accordingly.
How To Buy From Meidear Eyelash Vendor?
Are you considering buying from the Meidear Eyelash vendor? Well, there are a few steps that you need to follow. These include:
Step 1: Contact Meidear Eyelash
If you want to discuss more regarding buying eyelashes from Meidear Eyelash, consider contacting them via:
Whatsapp: +86-13176398069
Email ID: sale@meideareyelash.com
Step 2: Select and Customize The Lash Style
Once you establish contact, you will get an extensive catalog of lash styles from which you can choose.
You can finalize any lash style according to your needs, and we will send the sample within two working days. During this time, you can get to know about the price as well.
Step 3: Design The Eyelash Package
Along with the lash style, you can let us know about the eyelash package's design that you want. Then, we will ensure that you receive your lashes in that specific packaging properly.
Step 4: Finalize Your Order and Start Production
Once you like the sample, price, and delivery, we can finalize the lashes in bulk and proceed with payment. We will also let you know the estimated delivery time as per the product's availability.
Final Thoughts
Finding the right lash vendor may feel like a big task. But, with the steps mentioned above, you can easily find the one suitable for your business.
If you still feel lost, you can consider Meidear Eyelash as your trusted lash vendor as well!