When we are ready to start our eyelash business, we also need to consider how to find a good eyelash vendor. For the eyelash business, there are generally two types of eyelashes: strip lashes and eyelash extensions. When looking for a good eyelash vendor for strip lashes, we need to consider whether we want to purchase real mink lashes or faux mink lashes, or both. Mink eyelashes may look a little more natural, while faux mink lashes may have an advantage in terms of price. When looking for a good eyelash vendor, we can ask for a complete catalog of eyelashes. We can compare the prices of several suppliers to choose the one with the best price and performance. Of course, it is best to choose a lashes vendor with a wide range of eyelashes so that we can have more options when choosing samples.

When choosing the strip real mink lashes, we probably need to pay more attention to the color of the lashes, the fullness of the lashes, and the arrangement of the lashes. For mink eyelashes, we can choose a brighter color and a better 3D effect, and for the arrangement effects, we can choose the appearance we want, for example, some of the appearance effects will be more exaggerated, suitable for some specific occasions, while some of the appearances will be more natural, that is suitable for daily wear. We can choose this according to our needs. For faux mink eyelashes, we also pick the better 3D effect and the appearance that we want to feel. This depends on our personal choice, combined with the needs of our customers. And when we look for a good eyelash vendor, we can learn more about the specific product information of real mink lashes and faux mink lashes from the supplier so that we can make better preparation for the information of online promotion.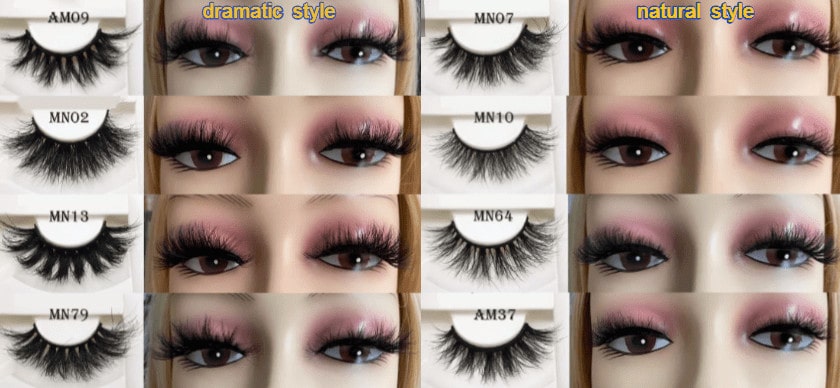 For pairs of eyelashes, we need to look at all the categories in the catalog when purchasing eyelashes, and we can pick up more eyelash styles if we are purchasing for the first sample order. We also need to ask a good eyelash vendor if they can customize our eyelashes because some of us may not like the styles in their catalogs and want to customize our unique eyelash styles. If the eyelash vendors can customize the style, can they also customize the eyelashes with different materials? such as mink lashes or faux mink lashes, and can they customize the color of the lashes? Ultimately, we need to choose a wider variety of products, such as whether the supplier also produces magnetic lashes, half lashes, or DIY lashes. Then we must also choose a good eyelash vendor that provides a comprehensive eyelash customization service so that we can have good after-sales service when we encounter problems in the process of purchasing eyelashes.
If we pick out the styles of lashes we need, we can also consider starting to customize our eyelash boxes with our logo. For strip eyelashes, most eyelash boxes are divided into two types, one is the ordinary inexpensive paper card box, the other is the more delicate cardboard magnetic box, if we have enough budget, we can choose the delicate fine laminated box, because the fine laminated box is more delicate, sturdy and loved by the majority of customers, it can be designed to do on a large printing area, the box style is also more. By the way, you need to ask a good eyelash vendor what printing methods are available, because different printing methods may make a different logo effect. There are usually three common printing effects, ordinary printing, hot stamping printing, and UV printing, ordinary printing is more popular, you can do a large area of printing with any you want, which is the popular choice of most customers. UV printing is another printing effect, this effect is usually more suitable for small areas of printing logos and text and other styles.
While we're looking for a good eyelash vendor, we can also look for the lash tools we need for our strip lashes. For strip eyelashes, tweezers, brushes, eyeliner, lash glue and lash shampoo are the tools that we often use to wear our lashes. Eyeliner and glue in particular are essential for wearing lashes. We can also ask our lashes vendor to see what we like about these tools. Nowadays, most of our customers like to buy eyeliners with diamonds and a shiny appearance. We can ask a good eyelash vendor for the entire catalog to choose what we need. For the eyeliner pencil, we can purchase more black, less some transparent, and other colors as the samples. Of course, we also need to communicate with the good lashes vendor whether these eyelash tools can be customized with our logo, especially the glue and tweezers, if we need more lashes tools, that is better for us to customize our logo on the tools.