1. Black Eyelash Packaging Wholesale Vendor
Black represents stability, gold represents luxury, The black and gold eyelash packaging with private label is the choice of most women with successful eyelash business. A beautiful black custom eyelash box not only attracts customers to you but is also a symbol of your eyelash business. It is very important to choose a custom eyelash package that is consistent with your taste and style. The black eyelash box with a gold color is the most suitable.
Rectangular matte black lash boxes are the first choice for customers who prefer black eyelash boxes. The logo looks great printed in any color on the black eyelash boxes. Especially white, pink, and hot gold. Not only can we print the logo on the front of the box, but the back of the box can also be printed with social media messages or your favorite motto or slogan. If you want to make your lash box look more design and also have enough budget, you can also choose to print the lash logo and slogan on the inside of the box. That would be a great touch! The color of the inner box also has a variety of options. We can customize glitter inner boxes in various colors. I think the best match is rose gold- it is simply a symbol of low-key luxury.
Not only are there a variety of colors to choose from, but if you want to see the style of the lashes inside through the box, we can also open a window in the box. The position and shape of the windows can be determined according to your preference. A rectangular black window box is the most common one.
In addition, there are many other styles of black eyelash boxes. Like pull-out black eyelash boxes, handle black eyelash boxes, cardboard black eyelash packaging, square black lash boxes, diamond black lash packaging, snakeskin box, pair of door boxes, etc.
2. Butterfly Eyelash Packaging Box Wholesale Vendor
If you like cute custom eyelash packaging, then custom butterfly eyelash packaging must be perfect for you! The hottest is the transparent acrylic box printing butterfly pattern. The butterfly pattern can be in any color. Some of the most common colors are pink, purple, orange, and blue.
You can print your logo and social media information on the butterfly eyelash box after choosing your favorite butterfly pattern color. The next popular butterfly lash box is the square window pull-out box, the box is also printed around the butterfly pattern of various colors.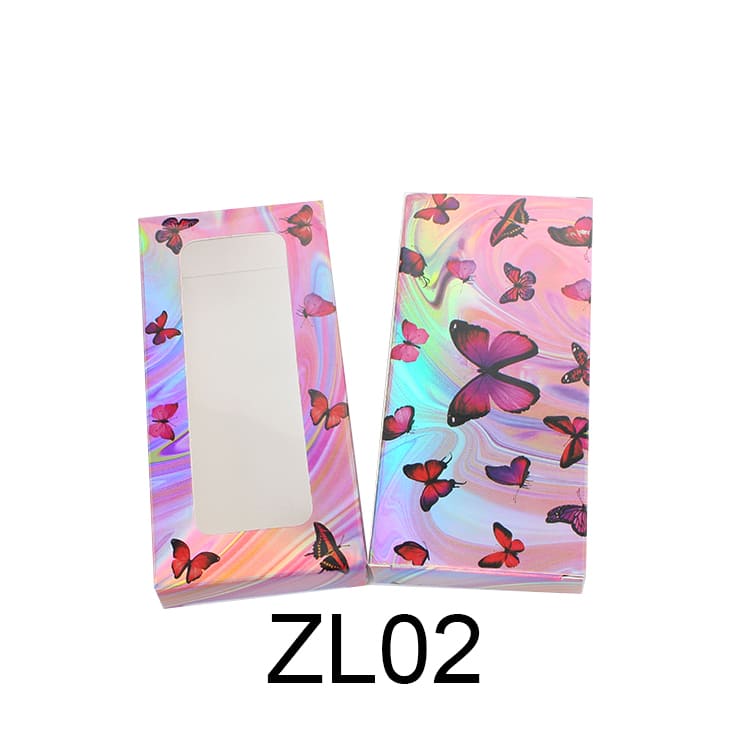 If you want to print your lash logo, you can choose to print on the transparent PVC windows. Considering that some customers who are just starting their eyelash business may not have enough budget, but still want the butterfly lash packaging. That's why we also provide a paper butterfly lash case.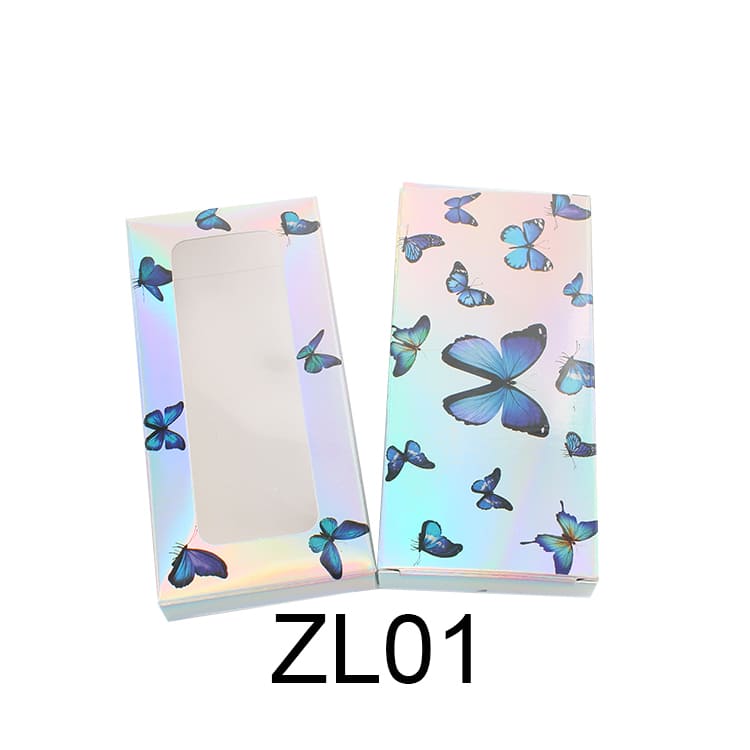 The most common paper butterfly lash box is holographic. The special butterfly paper card box is a butterfly-shaped lash box, the top side of the butterfly cardboard box is in the shape of butterfly wings. Very attractive to customers' eyes!!!
The last popular butterfly lash boxes are the butterfly-shaped lash box with a butterfly-shaped window on the right side of the box. Usually, a pink ribbon is added to the bottom of the butterfly eyelash case – it will look more matching.
3. Diamond Eyelash Packaging Wholesale Vendor
Do you know what is diamond eyelash packaging? The diamond lash box is just like its name, it is appearance looks like the shape of a diamond, used to hold eyelashes. We also have a wide range of diamond lash packaging for you to choose from. First of all, in terms of color, almost any color can be customized.
The most popular colors for the diamond eyelash boxes of glossy films are gold, rose gold, and holographic. Diamond eyelash case printed with white stripes of diamond structure. The effect is very realistic. The other most common type of diamond shape eyelash box is the glitter one with the entire exterior.
As for the choice of color: black, blue, yellow, rose gold, big red, peach, light pink, mauve, dark purple, silver, navy blue, etc. The color of the inner box is generally consistent with the color of the outer box. There is also a diamond lash case is the outer box does not print the diamond structure of the strip. Most customers will choose to print the logo on the front and back of the box, or if you want your box to be a little more special, you can print a slogan on the inside of the box.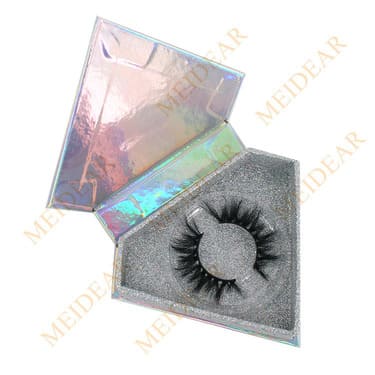 About the diamond eyelash package of the matte film, Available in solid colors, marbled ones, and design eyes. There is also a diamond lash packaging that is closest to a diamond. It's a clear acrylic diamond eyelash box. Its surface imitates the shape of the diamond to do the uneven design, in the refraction of the sun will have a color mapping. Due to the uniqueness of the design, it is also heavier and larger than other eyelash packaging boxes.
And since the surface is uneven, there is no way to print the logo directly on the box. If you want to customize your logo on the acrylic diamond eyelash box, the only option is to put a logo sticker on the inner eyelash tray, but even then, you don't need to worry about bad customization of the logo, the logo is seen through the acrylic case is perfect.
4. Christmas Eyelash Packaging Wholesale Vendor
Is anyone not looking forward to Christmas? Not only do children look forward to Christmas, but adult children also look forward to Christmas. It seems that in people's perception, Christmas must be about shopping. Then eyelashes as an important component of beauty must be essential. If you add a beautiful Christmas lash packaging to match, it will certainly attract a large number of customers for you.
The most common Christmas lash box is red. Whether it is cardboard paper boxes or magnetic Christmas lash boxes. In addition to red-themed Christmas eyelash packaging, there are also pink, green, and blue-themed Christmas lash packaging for you to choose from. It's a good idea to prepare Christmas-themed custom eyelash boxes in advance of Christmas. Not only can you add to the festive atmosphere, but you can also bring in revenue for yourselves.
About the Christmas eyelash packaging box, there is a very special Christmas theme packaging- round and apple-shaped iron box, the surface of this Santa Claus and Christmas tree printed. I think this box can be used for many things. After using up the eyelashes inside, you can use it to fill some small gifts for the children. Because the box is sealed, you can't see what's inside, just like opening a blind box. If I receive it, I will be very surprised!!!
5. Lash Book Packaging Wholesale Vendor
If you like to mix different styles when buying lashes but find it too tedious to have a lash box for each type of lash, then the lash book must be a good choice! The first eyelash book is a three-pair eyelash package that holds three pairs of lashes plus a tweezer and glue. If needed, you can also put a lash brush in the remaining position of the lash tray.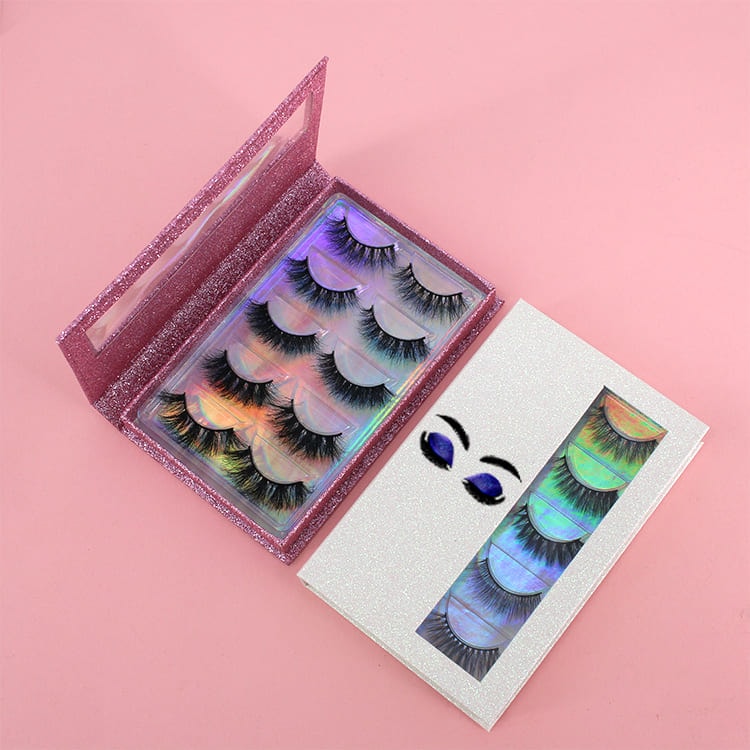 This is very helpful for newbies. If it's their first time buying false eyelashes, they most likely don't have as complete a set of tools to wear them. If a lash book packaging contains all the tools that will be used, it will be a great surprise to the novice! I think this is also another way to increase income, lol. If you don't need a matching lash tool and just want to mix different styles of lashes. Then there are more options about lash book packaging wholesale.
Like 5 pairs of lash book packaging, 8 pairs of lash book packaging, 10 pairs of lash book packaging, 16 pairs of lash book packaging. These are the most common lash books on the market. If you want a specific quantity of lash book packaging, you can also customize it, just talk to your eyelash supplier when you order. Many customers are interested in the price of lash book packaging wholesale. Prices vary by material and customization requirements.
Three pairs of custom eyelash books and five pairs of custom eyelash books are generally magnetic cardboard packaging. Ten pairs of lash book packaging and sixteen pairs of lash book packaging are generally paper boxes. If we average the price of each pair of lashes with the lash book packaging, then the lash book packaging is a better value than single pair custom eyelash packaging boxes.
6. Mini Suitcase Eyelash Packaging Wholesale Vendor
False eyelashes give your eyes a soul, and you should find a home for your false eyelashes. If you don't want your dressing table to be so cluttered and want to organize the items you need for each makeup step in a separate category.
Then the mini suitcase eyelash packaging must be the most suitable for eye makeup cosmetics. The most common color combination is pink and gray with a clear acrylic window in the front. You can see the items placed inside through the window. Of course, there are many other colors of the mini suitcase lash case for you to choose from.
Like yellow, blue, green, purple, etc. Not only can you put your eyelashes in the luggage lashes suitcase, but you can also put glue, tweezers, eyelash brushes, and other items needed for eye makeup. If you feel there is nothing new about using lash books to sell lash sets, but still want to sell them in sets, then an eyelash packaging suitcase is a good choice!
7. Money Eyelash Packaging Wholesale Vendor
Everyone who wants to start an eyelash business initially wants to make money. Even if it's not someone who has her own eyelash business, but just a customer who buys eyelashes, her dream will be to make a lot of money, which is the dream of everyone.
People who are in business want something to express the symbolic meaning of the items they sell. Money eyelash box can not only express people's love and desire for money but also has a good meaning. That is to hope that all the people who use it in the future can earn more and more money. Just a box simply printed with dollars is already very distinctive, and if you then print your lash logo and brand name on the money lash box, it will be very memorable!
The most popular money lash packaging is the pink money eyelash box, followed by the blue money lash box. And the pink money lash box can be made into a variety of styles, like magnetic flip-top money eyelash packaging, window money lash box, pull-out money eyelash packaging, cardboard paper money lash box, diamond handle pink money lash box.
8. Phone Lash Packaging Wholesale Vendor
The cell phone is an essential thing in our daily life, almost all the information is spread through cell phones. Usually, the first thing we think of when it comes to cell phones is our daily use of cell phones.
Have you ever seen phone lash packaging? If cell phones deliver current news to us, then eyelash packaging phone delivers fashion information. It is the secret of how to make us beautiful!!! Just a phone-shaped box is already very attractive, it would be very special to print your favorite slogan or what you want to convey to your customers through your eyelashes in the display on the front of the phone.
If the size of the display on the front of the phone is not large enough for you to express your thoughts, don't forget the back of the box. You can model what you want to say in the form of a conversation. Just like a chat dialog, printed on the back of the box.
9. Marble Eyelash Box Wholesale Vendor
If you want a minimalist-looking box, but don't want it to be completely solid in color. Then the marble eyelash box must be the best choice! The marble eyelash packaging is not as simple and single as a solid color box, but also not as cumbersome as a custom eyelash box with too much design. The white box with a black marble pattern is one of the most popular colors. Next is the white box with peach pattern custom marble lash box. The most matching color for the inner box is rose gold, followed by gold. The inner box would be perfect if it were glitter. But this is only my advice, the specific choice or according to personal preferences. The plain black box with white marbling marble lash packaging is also very popular. For customers who like simple style, are good choices! Like all other boxes, the marble lash packaging can be customized to any shape.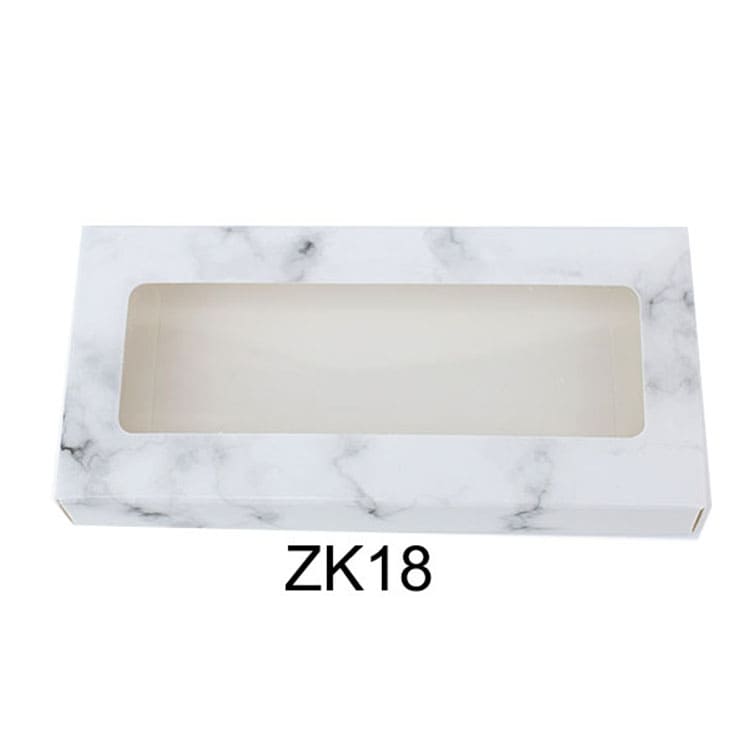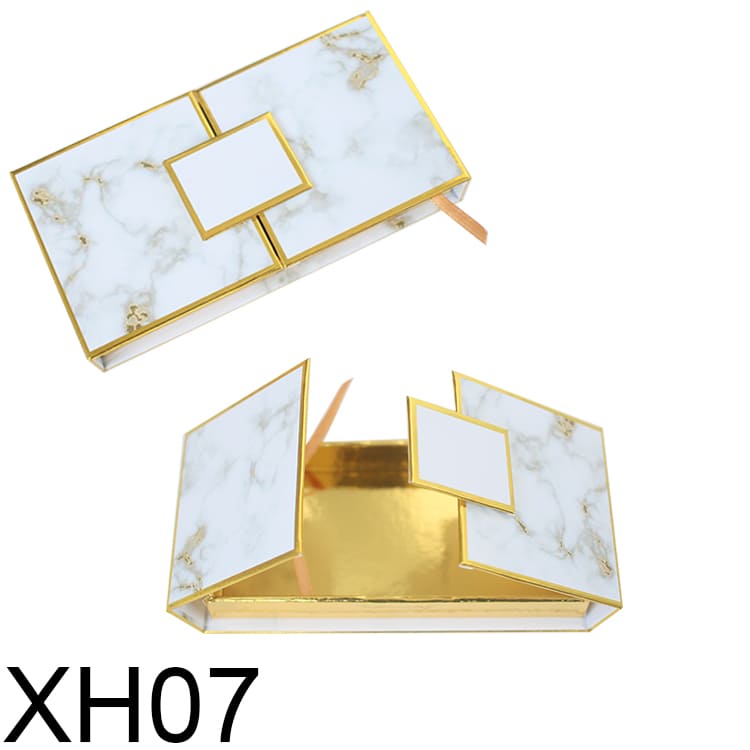 10. Pill Bottle Eyelash Packaging Wholesale Vendor
For girls, drugs are not the only antidote. The most effective remedy is to become beautiful. Everyone says that the eyes are the windows to the soul, so the one thing that can make them perfect is false eyelashes. So how can give you the antidote to save the windows of your soul? Maybe the eyelash packaging pill bottle can do it. Make the medicine box into lash pill bottle packaging that can hold eyelashes. Replace the instructions section on the original box with your lash logo, lash brand name, social media information, favorite slogan, etc. Good medicine should be able to heal not only the disease but also the mood of the person. It is very difficult to change one's mood when facing the same thing every day. So diversity is very important. The pill bottle lash packaging is not a white box like the real drug packaging, which is mostly white. It can be colorful. Pill bottle lash packaging is not only new but also special enough. If you like something special and want to make your eyelash business different, maybe you can try pill bottle lash case wholesale.
11. Halloween Eyelash Packaging Wholesale Vendor
Halloween eyelash packaging, like Christmas eyelash packaging, is a themed eyelash packaging that echoes the holiday and adds to the festive atmosphere. As usual, on the eve of Halloween, people usually prepare what they need for Halloween in advance. Then as a businessman, it is natural to make your sales plan according to the needs of customers and current fashion trends. For the eyelash business, a Halloween lash box that matches the holiday is a great eye-catcher for customers. The most common Halloween lash packaging on the market are boxes printed with Halloween-themed graphics. If you want a little more special Halloween lash packaging, then you can't miss the candy box and pumpkin box. The most special Halloween eyelash packaging must be the coffin eyelash box. The black outer box and the red inner box of the coffin box are the best sellers. You can print any pattern you like on the Halloween lash packaging, or you can print your logo and brand name on it. The back of the box can also be put to good use, for example, you can print slogans or your social media information.