False eyelashes are a fast-selling beauty product. They amplify the beauty within by adding glamour to the eyes. But, how do you attract the attention of customers to your brand?
Be sure to use a catchy eyelash slogan for your eyelash brand to attract the attention of customers. It will boost the growth and sales of your lashes.
Eyelash slogan ideas? An eyelash slogan should be very catchy and attractive. The slogan works as the voice behind the brand. It informs your customers about what they are purchasing. Keep it simple and memorable.
What Is A Good Slogan For Eyelashes
An eyelash slogan is a memorable phrase used alongside the name of the eyelash brand. It helps to persuade customers to purchase or get attached to your lash brand.
A lash business slogan uses the power of repetition and familiarity to fetch attention.
A lash company slogan appears below the brand name and logo. Ensure that both your brand name and logo are catchy to match with the lash slogan.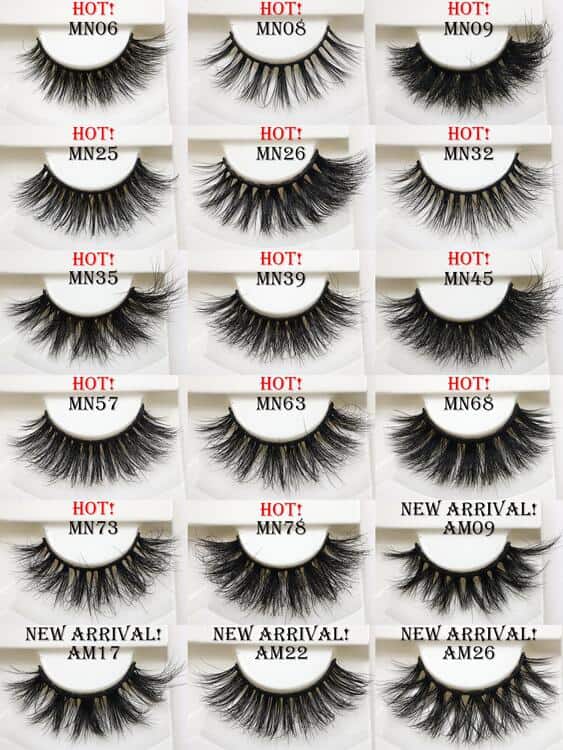 Why You Need A Slogan For Your Eyelash Brand Business
1. A Slogan For Lash Business Is A Powerful Marketing And Advertising Tool For Your Eyelashes
Eyelash business slogans are powerful marketing and advertising tools for your eyelash brand. It draws attention to your eyelash brand and your eyelash products.
2. Lash Business Slogans Highlights The Benefits Of Associating With Your Eyelash Brand
A good lash extensions slogan highlights the benefits of purchasing your eyelashes. For example, a slogan like 'beauty beyond measure' means the lashes will enhance a client's beauty.
3. Eyelash Extension Slogan Ideas Increase Brand Positioning For Your Eyelash Business
Knowing your target market and coming up with a slogan to fit in the market gives you positioning. This means that your brand sits within the focus group and is very notable.
Be sure to accompany the slogan with a catchy brand name and logo for increased attachment to your brand.
4. Catchy Lash Slogans Build Better Customer Relations With Your Brand
Eyelash Extension Slogans help to fill the gap between the eyelash brand and the customers. The slogans use memorable phrases that are easy to relate among the target groups.
Your audience will recall a well-crafted slogan. This makes them develop a positive attitude towards your eyelash brand.
The secret to a relatable lash business slogan is using terms that impress the target audience. For example, 'lashes with a youthful look.' Everyone wants to look young, so the slogan catches the emotions of the audience.
Customize your eyelash brand slogan to capture the heart/ emotions of your audience. This will enhance customer relations.
5. A Good Slogan Will Increase Demand For Your Eyelashes
A slogan speaks about the quality and benefits of your eyelashes. By telling more about your eyelashes, more people get interested in your lashes.
The more people get interested in your eyelash brand, the higher the demand for the lashes. In the end, the higher the sales leading to huge profits.
6. Good Eyelash Slogan Ideas Makes Your Eyelashes Stand Out
There are thousands of ads on mainstream media and other advertising platforms. You need to have a unique lash artist slogan for your brand to get recognized.
Qualities Of A Good Eyelash Tagline
Good eyelash taglines should follow some simple rules. Always focus on the benefit of the eyelashes then the features of your eyelashes.
Here is a guide on what a good slogan should entail;
1. A Good Eyelash Tagline Should Be Concise
Go straight to the point and keep it short with the slogan. Mention the main benefit of purchasing your lashes in a short statement.
2. A Good Eyelash Tagline Should Be Catchy
It should capture the attention and the imagination of your target audience. There are a few methods you may apply to make your slogan catchy. They include;
Making use of alliterations.
Use phrases starting with the same letter. This helps to stimulate the brain into mastering the words.
Alliterations trigger an association between the phrase and the brain of the audience. This way, the slogan gets stuck in the audience's brain.
Rhyming words are very memorable compared to plain phrases.
3. A Good Eyelash Tagline Is Timeless
Take Your time to come up with a memorable slogan that will never go out of age. For example, The Real Eyelash Factory- No Middleman! Our slogan is concise, catchy, and timeless.
4. A Good Eyelash Tagline Has A Target Audience
Always have a target audience when coming up with a slogan for your lashes. Eyelash lovers are your target when coming up with an eyelash slogan.
There is not much to worry about age groups with eyelashes. Everyone that loves a good set of eyelashes loves to look youthful.
A good example is XYZ Eyelashes-The Best A Woman Can Get! The slogan targets the female audience in general, who are lovers of eyelashes.
5. A Good Eyelash Tagline Is Relevant
Relevance should answer the question, what's in it for me? Ensure that your eyelash slogan answers in a precise manner.
Our 'No Middleman' slogan assures our customers of purchasing lashes at factory price.
6. A Good Eyelash Tagline Should Align With The Brand
The slogan should align with your brand name and logo. If your brand is all about fun lashes, use a funny slogan to match the brand name.
For example, Kitty Eyelashes- Fluffier Than Your Feline Friend! The slogan describes how fluffy the lashes are while maintaining the fun in the brand name.
Best Eyelash Slogan Ideas
Planning to set up your eyelash business? Here is a list of the best slogan ideas for your eyelash brand!
Your Favorite Curtains for the Eyes
I May Not Be Perfect, But My Lashes Are
My Eyes Have It
Don't Rush, Just Lash
Lash Me; I'm Not In A Hurry
Keep Your Standards High and Your Lashes Longer
Get FabuLash
Let's Get You Lash-A-Holic
Great Lashes Take Time
Live, Laugh, Lash
Eyelash Made To Perfection
Lashes For Queens
Step Up Your Lash Game
Good Lashes Matter
Recommended By The Best
Get Pretty, Get Lashed
Big Lashes, Big Heart
The Ultimate Lash Glow
Quality Lashes For Less
Watch Out; You're Lashing It
Every Time Is Lash O'clock
Lash Up, And Gas Up
Lashes For The Bold
Queens Wear Lashes
Less Stressed, Lash Obsessed
Where To Find Great Lash Extension Slogans Ideas
Google and social media serve as the best platforms for inspiration. Google the words "eyelash slogan ideas." You will get many results suitable for your selection.
You may also use a slogan generator tool on Shopify to develop ideas for your eyelash brand.
Final Thoughts
Lash line slogans allow you to be creative. Allow your mind to roam and come up with a unique and catchy slogan.
Go through the above list of slogans for eyelash ideas. Play with words to come up with more slogan ideas for your eyelash brand.